Who is Bill Murray?
Bill Murray is a well-known name in the American entertainment industry. He has made his name as an incredible actor, comedian, as well as a filmmaker, and a writer. The actor is best known for his appearance in, Saturday Night Live. Besides, he became known as one of the greatest stars for his notable roles in the films including, "Lost in Translation," "Meatballs," "Tootsie," and "Ghostbusters," among many more. Furthermore, Bill has also gained several accolades such as Primetime Emmy Awards, and Golden Globe Awards. The actor has been in the industry since 1973, initially working for a radio show, "The National Lampoon Radio."
Quick Info
Celebrated Name
Bill Murray
Profession
Actor, Comedian, Filmmaker, Writer
Birth Date
September 21, 1950
Birth Place
Evanston, Illinois, US
Full Name
William James Murray
Star Sign
Virgo
Parents
Father: Edward Joseph Murray II
Mother: Lucille Murray
Siblings
8
Nationality
American
Ethnicity
White
Height
6 feet 1 inch (186 cm)
Hair Color
Grey
Eye Color
Blue
Wife
Margaret Kelly (divorced)
Jennifer Butler (divorced)
Kids
6
Net Worth
$140 million
Bio
Bill Muray was born on September 21, 1950, as the name William James Murray, in Evanston, Illinois, US. He was born to his father Edward Joseph Murray II, and his mother, Lucille. Edward worked as a lumber salesman, whereas Lucille worked a mail-room clerk. Edward died when Bill was 17 years old because of diabetes. Besides, Bill grew up along with his eight siblings. His three siblings; JohnMurray, Joel Murray, and Brian Doyle-Murray, are also prominent actors. Bill has the star sign of Virgo.
Nationality and Physical Stats
Bill holds an American nationality, and as per ethnicity, he belongs to White. Furthermore, standing at the height of 6 feet 1 inch (186 cm), he has been able to maintain his body fit. Additionally, his blue eye colour, and grey hair colour, reflects his fantastic personality.
Bill Murray Education
Firstly, Bill Murray joined St. Joseph's grade school, and ten to Loyola Academy, located in Wilmette, Illinois. During his high school, he sang as a lead singer of a band, "Dutch Masters." After being certified from the school, he enrolled at Regis University, located in Denver, Colorado. He left the college briefly after he had joined. Nevertheless, in 2007, after a long time, he received an honorary Doctor of Humanities degree by the Regis.
Career
Starting up his career in acting, his brother called him up for joining the comedy theatre, "The Second City," located in Chicago. He trained there under an American writer, Del Close. This helped him for flourishing in his career in acting. Meanwhile, in 1975, he became a cast member of the comedy show, "Saturday Night Live with Howard Cosell." In the same year, "Saturday Night Live," premiered in NBC. The next year, he joined the show. Bill three season in Saturday Night Live, became his life-changing time.
Eventually, in 1979, his debut film, "Meatball" released, which was a huge commercial as well as critical success. He had his three movies released in the year. Then, in the next year, he appeared as Hunter S. Thompson, in the film, "Where the Buffalo Roam." He also had two films, "Caddyshack," and "Loose Shoes," in 1980. In the next two years, Bill's two films released, "Stripes," and"Tootsie."
In 1984, Bill featured in four films, among which he co-wrote one movie, "The Razor's Edge." As the film did not go well, he decided to take a break for appearing as a lead role for four years, except a movie, "Little Shop of Horrors." Then, he returned in 1988, with two hit films, "She's Having a Baby," and "Scrooged." Then, in the next year, he featured in a sequel, "Ghostbusters II." In 1990, he co-directed a movie, "Quick Change," alongside Howard Franklin.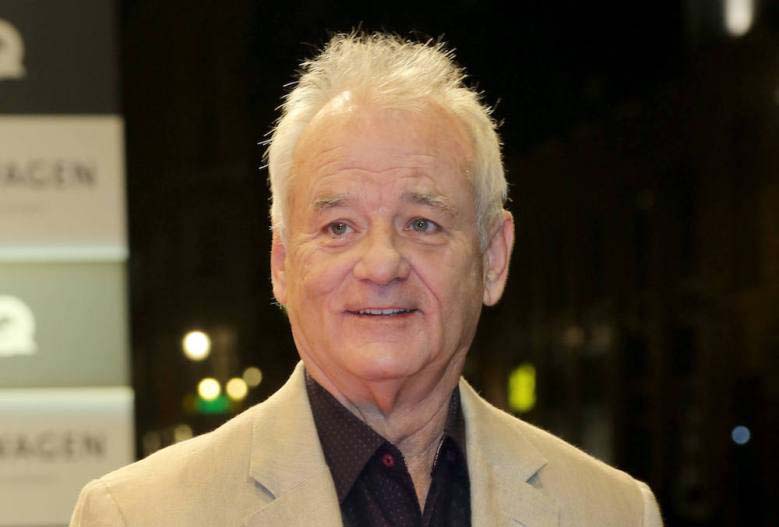 More about Career
Similarly, in 1999, he published a book, "Cinderella Story: My Life in Golf," which was the evidence of his love for golf. He has featured in numerous movies in the 2000s. The actor mainly starred in the drama films, including, "Hamlet," "Lost in Translation, "Broken Flowers," "The Life Aquatic with Steve Zissou," and "The Lost City," among some others, from 2000 to 2005. He gave a voice in the animated comedy film, "Garfield: A Tail of Two Kitties," and Fantastic Mr Fox," in 2006 and 2009, respectively.
Subsequently, in 2007, he returned with a cameo role in "The Darjeeling Limited," and "Get Smart," in 2008. Bill played three movies in 2009, including "Zombieland," which gained critical as well as commercial success. Also, after ten years, in 2019, he appeared in the sequel, "Zombieland: Double Tap." Likewise, in 2012, the actor made a challenge to himself playing the character of President Franklin D. Roosevelt, in the film "Hyde Park on Hudson."
Furthermore, Bill had his four films released in 2014, and two films in 2015. In 2016, the actor starred in a supernatural comedy, "Ghostbusters." The sequel of the film, "Ghostbusters: Afterlife," will also be released in 2021. His recent movies are "The Dead Don't Die," and "Zombieland: Double Tap," in 2019. Bill has upcoming three films, "The French Dispatch," "Ghostbusters: Afterlife," and "On the Rocks."
Personal Life of Bill Murray
Bill is married two times. Firstly, he tied a knot with Margaret Kelly on January 25, 1981, on Super Bowl, which is the annual championship game of the NFL, in Las Vegas. They again married for their families and relatives in Chicago. Also, the couple has two sons together; Homer and Luke. However, they separated with a divorce in 1996, as Bill had an affair with Jennifer Butler.
After a year of divorce with Margaret, he married Jennifer. The couple also has four sons together; Caleb, Jackson, Cooper, and Lincoln. Bill and Jennifer, also being together for about eleven years, ended their relationship with a divorce on June 13, 2008. 
Net Worth
Bill Murray has earned massive popularity from his professional career. Likewise, along with gaining name and fame, he has been able to make a handsome amount of money. Bill has an estimated net worth of about $140 million as of 2020.