Who is China Anne McClain?
China Anne McClain is an American actress and singer who have contributed fifteen years of her life and is working to date in the entertainment field. She started acting from an early age when she was seven in the film 'The Gospel,' which was her debut film. She then went on to play in various T.V. series and movies. Her popularity reached worldwide when she was cast in the Disney Channel series 'A.N.T. Farm' as Chyna Parks. Along with acting, she is also a singer, and she started her singing career in 2005. Her genre is pop and R&B. Moreover, her professional debut single was 'Your Biggest Fan' with Nick Jonas for the album Jonas L.A in 2010.
Quick Info
Full Name
China Anne McClain
Profession
Actress, Singer
Birth Date
August 25, 1998
Birth Place
Atlanta, Georgia, United States
Star Sign
Virgo
Parents
Father: Michael
Mother: Shontell
Siblings
3
Marital Status
Unmarried
Net Worth
$700 thousand
Nationality
American
Religion
Christian
Height
5 feet and 3 inches (161cm/1.61m)
Weight
53 kg (117lbs)
Body Measurements
32-23-33 inches
Eye Color
Dark Brown
Hair Color
Black
Bio
China Anne McClain was born on August 25, 1998, in Atlanta, Georgia, United States. She was born in a musical family where her father Michael is a music producer, vocalist, writer, and sound engineer while her mother Shontell is a vocalist and songwriter. She also has two older sisters and a younger brother named Sierra, Lauryn, and Gabriel Anne McClain, respectively. Her sisters are also involved in this field. She is currently 22 years old with a Virgo sun sign.
Nationality and Physical Stats
China Anne McClain holds an American nationality and follows Christianity. Besides this, she stands 5 feet and 3 inches (161cm/1.61m) tall and weighs 53 kg (117lbs). Her body measurements are 32-23-33 inches, respectively. She has a pair of dark brown colored eyes with black hair color complimenting her hourglass body figure.
Early Life 
China Anne McClain is graduated from Oak Park High School. She was inspired by her family to enter in this entertainment field. From her early days, she is a fan of Beyonce as she can feel that her style of music is similar to her idol.
Career
Television
China Anne McClain did her debut television show in 2007 in 'Tyler Perry's House of Payne' as Jasmine Payne. This show ran till 2012. She then appeared in several series where she appeared in one or two episodes like 'Jimmy Kimmel Live!' 'Hannah Montana,' 'NCIS,' 'Jonas,' and many more. She then appeared in a lead role in the 2011 series 'A.N.T. Farm' as Chyna Parks. Likewise, in 2012 she appeared in T.V. shows like 'So Random!' and 'PrankStars.' She was also one of the contestants in 'Sing Your Face Off' in 2014.
Moreover, Anne became internationally famous when she lent her voice to Freddie Facilier in 'Descendants: Wicked World' from 2015 to 2016. She was also seen in the television film 'Descendent 2' as Uma in 2017. The same year, she also ventured as executive producer in 'Ten: Murder Island.' Furthermore, she got the main lead of Jennifer Pierce in the superhero drama T.V. series 'Black Lightning' in 2018, which is running till date. She has also reprised her role of Uma in 'Under the Sea: A Descendants Short Story' and in 'Descendants 3' in 2018.
China Anne McClain Films
China Anne McClain landed her debut film role in 2005 'The Gospel' in 2005. After that, she featured in the films like 'Madea's Family Reunion' in 2006, 'Daddy's Little Girls,' and 'A Dennis the Menace Christmas' in 2007. Later during 2010, she appeared in two films named 'Hurricane Season' and 'Grown Ups' as Charlotte McKenzie. After three years, she starred in the sequel film of 2010 called 'Grown Ups 2', where she reprised the role of Charlotte McKenzie. She then voiced over for 'Bilal: A New Breed of Hero' in 2015. The next year she featured in 'Sheep and Wolves' as Lyra. She had her recent appearance in 2018 'Blood Brother,' where she played as Darcy.
Music
Along with acting China Anne McClain is also a singer. She has sung a song for her own series and films. Likewise, she has also released her own single. She has also appeared in Nick Jonas album named Jonas L.A, where she has sung 'Your Biggest Fan.' Likewise, her other song from the album Disney Channel Holiday Hits is 'This Christmas.' Furthermore, she has also appeared in a music video of songs like 'Dynamite,' 'Something Real,' 'Stronger,' 'What's My Name' and many more.
Achievements
China Anne McClain won NAMIC Vision Awards in 2011 for her role in 'Tyler Perry's House of Payne.' She has also been awarded NAMIC Vision Awards and NAACP Image Awards in 2014 and 2015, respectively, for her work in 'A.N.T. Farm.'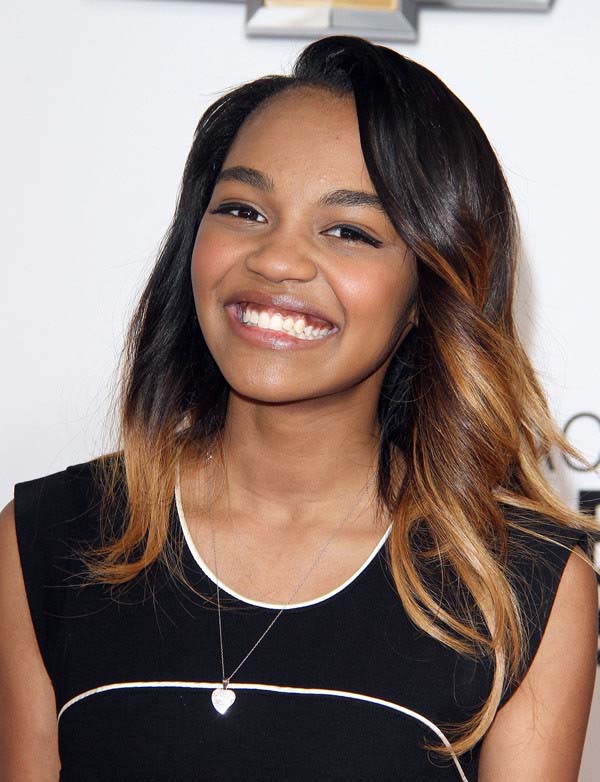 Personal Life 
China Anne McClain is currently single and unmarried. She lives with her family in Los Angeles, California.
Social
China Anne McClain is active in her social media platforms. Her Instagram account (@chinamcclain) has 6.3 million followers, and her Twitter account (@chinamcclain) has 1.5 million followers. She also has her Facebook page with 4.8 million followers and 4.1 million likes. Moreover, she and her sisters have created a YouTube channel named (thrii) where they post their singing, challenges, and Q%A videos.
Net Worth
China Anne McClain is an American actress and singer who have been working very hard in this entertainment field. Her net worth as of 2020 is estimated to be $700 thousand.