Who is Chuck Norris?
Chuck Norris is a well-established high profile celebrity who has made his name from his amazing professional life. He has gained fame as an actor, film producer, and screenwriter, in addition to martial artists. Chuck has appeared in numerous action films and television series showing his amazing skills. Earlier, he worked in the United States Air Force. The actor gaining several martial arts championships owned curriculum Chun Kuk Do. Moreover, Chuck has also given training to many celebrities, as he is a black belt in Tang Soo Do, Brazilian jiu-jitsu and Judo.
Quick Info
Birth Name
Carlos Ray Norris
Born
March 10, 1940
Age
80 yrs
Father
Ray Norris
Mother
Wilma Norris
Nationality
American
Height
5 feet 10 inches
Wives
Dianne Kay Holechek
Gena O'Kelley
Children
Mike
Net Worth
$70 million
Bio
Chuck Norris was born on March 10, 1940, in Ryan, Oklahoma, US, as the name Carlos Ray Norris. He was born to his father, Ray Norris, and his mother, Wilma Norris. Ray Norris served as a soldier in World War II Army, as well as worked as a mechanic, bus, and truck driver. Chuck grew up along with his two siblings; younger brothers, Wieland and Aron Norris. He has the star sign of Pisces.
Furthermore, Chuck holds an American nationality, and as per ethnicity, he has the ethnic background of Irish and Cherokee. He is Christian by religion. Standing height of 5 feet 10 inches (178 cm), he has been able to maintain his body fit. We can find Chuck Norris having an amazing attractive personality.
Early Life of Chuck Norris
Chuck Norris lived along with his mother and brothers, as his mother and father divorced when he was sixteen. At an early age, Chuck remembers himself as a nonathletic, shy, and scholastically mediocre. Besides, for his education, he joined the North Torrance High School.
Professional Career
Chuck Norris started his professional career in 1958 as an air policeman in the United States Air Force. He had to go to South Korea in Osan Air Base, where he developed an interest in martial arts. During the time, he became a trainee in Tang Soo Do and gained black belts. He carried on his work in California in the March Air Force Base. Eventually, in 1962 he laid off as a policeman.
After being a black belt, Chuck started his own Karate schools in several places. He also had students like Bob Barker, Priscilla Presley, and McQueen. Likewise, Chuck also competed in many tournaments of martial arts. Though in the early days he lost, he never lost his hope and continued. Subsequently, on November 24, 1968, he won a Professional Middleweight Karate Champion, in addition to Karate's Triple Crown in 1969.
Chuck became influenced in acting from his student Steve and decided to enter into the acting. In 1969, for the first time, he appeared in the movie "The Wrecking Crew." Similarly, the next appeared in 1972 in the film "Way of the Dragon" as Colt. Moreover, Chuck also enrolled in the acting classes. Notably, in 1977, he starred at the action film "Breaker! Breaker!". Moving on, he then started playing in several action films like "Hero and the Terror," and "The Octagon." Also, he starred in "Lone Wolf McQuade," and "Code of Silence."
More About His Career
Furthermore, in 1990, Chuck shaped his own style of martial style and named "Chun Kuk Do." Later, Chuck created a record of being in the eighth position in the Black Belt Grand Master.
The actor appeared in the action crime drama TV series "Walker, Texas Ranger," which became a hit worldwide. Also, in 2005, he gained more attention after "Chuck Norris facts" released. Then, he appeared in the action film "Expendables 2" in 2012. Besides, in 2006, the actor also published the book "The Justice Riders," and its sequel "A Threat to Justice." Likewise, he also published a political book, "Black Belt Patriotism."
Besides appearing in the films and TV series, Chuck also played in several advertisements for "B WBK Bank," "World of Warcraft," and "T-World." Also, he has displayed himself in the commercials for brands including "United Healthcare," "Toyota," "Hoegaarden beer."
Achievements
Being a martial artist, Chuck Norris has been able to present his superior personality. He has earned several achievements. Firstly, in 1969, Black Belt magazine named him the Fighter of the Year. Likewise, in 2000, he gained the Golden Lifetime Achievement Award, which became his most significant achievement given by the World Karate Union Hall of Fame.
Notably, in 2010, he gained an honorary title of Texas Rangers. Also, later in 2017, he became honored with the title "Honorary Texan."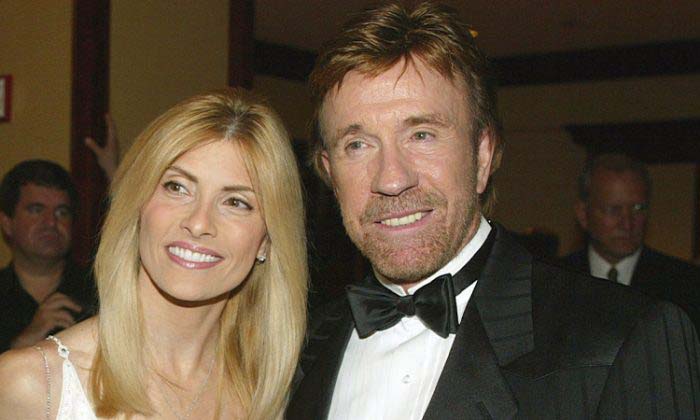 Personal Life of Chuck Norris
Chuck, just at the age of eighteen, married a seventeen years old girl Dianne Kay Holechek. They fell in love during their high school and married in December of 1958. Moreover, the couple also had their first child as a son, Mike, in after four years of their marriage. However, he was having fun with another girl who is a result he had a daughter. Likewise, after a year, in 1964, he had a son with his wife only. Chuck and Dianna being together for 30 years, separated in 1988, and divorced after a year.
Then, in the last of 1998, he married Gena O'Kelley. Gena was a model. Also, they became blessed with twins in 2001. In total, the 70 years old actor has thirteen grandchildren.
Net Worth
Chuck Norris, from his amazing professional career, has earned massive popularity. Likewise, along with gaining name and fame, he has been able to obtain a handsome amount of money. His net worth is estimated to be about $70 million as of 2019. His source of income also comes from other endorsements. Moreover, Chuck is also a brand ambassador of "Flat" automobiles.
Furthermore, the actor in the 1970s earned a minimum of $10 thousand per movie. Likewise, in 2013, he sold his two estates in Texas worth $4.7 million.