Who is Jayson Tatum?
Jayson Tatum is an American competitive basketball player. Presently, he plays for the Boston Celtics of the NBA (National Basketball Association). Before, he was considered as one of the top players and gained a five star in 2016 class during his college years. Previously, he played college basketball for the Duke Blue Devils. Jayson has struggled for many years to come up as a skilled and a person of interest to many people.
| Quick Info | |
| --- | --- |
| Full Name | Jayson Tatum |
| Birth Date | March 3, 1998 |
| Father | Justin Tatum |
| Mother | Brandy Cole |
| Brother | Jaycob Tatum |
| Sister | Kayden |
| Nationality | American |
| Height | 6 feet 8 inches |
| Weight | 93 kg |
| Eyes | black |
| Hair | dark brown |
| Girlfriend | Samantha Taylor Amos |
| Son | Christopher Tatum Jr. |
| Net Worth | $6 million |
Bio
Jayson was born on March 3, 1998, in St. Louis, Missouri, with the birth sign of Pisces. He was born to his father Justin Tat Justin Tatum um and his mother, Brandy Cole. He grew up along with his younger brother Jaycob Tatum and a sister Kayden. His parents were never married; however, his mother raised him with her, and his father was always there to support him. Jayson's father was an experienced basketball player, who played for "St. Louis University. Similarly, Jayson followed his father's footsteps.
Besides, Jayson holds an American nationality. With a height of 6 feet 8 inches (2.03 m) and weigh about 93 kg (205 lbs), he has been able to maintain his body fit and healthy. Furthermore, he has a wingspan of 6-11 wings. His black eyes and dark brown hair makes him look more attractive. He follows the Christian religion.
Early Life of Jayson Tatum
From his young age, Jayson showed his interest in basketball. He had his father as a coach, and likewise, his godfather Larry Hughes, his father college and school teammate, and most importantly, an NBA player also helped him. Moreover,  Jayson had a supporting height for basketball, and his father always made him influenced him that he was prepared for basketball.
Talking about education, firstly, Jayson enrolled in "Chaminade College Preparatory." He also joined himself in playing basketball. Instantly, he became the star of the school basketball team. Also, during his high school years, he met with the present NBA player, Matthew Tkachuk. Basketball career. After certifying from high school, he enrolled at Duke University.
College Career
Joining Duke University in 2016, Jayson started playing basketball and became a star of the college. He played his first game during the college season 2016-17. Sadly, he suffered from a foot injury, which made his actual start of playing basketball from December 2016. During his first game only, he made a record of 10 points and led his team to win "Maine." Likewise, he played persistently better and drove his team to win several strong teams like "Georgia Tech," "Florida," and "Miami."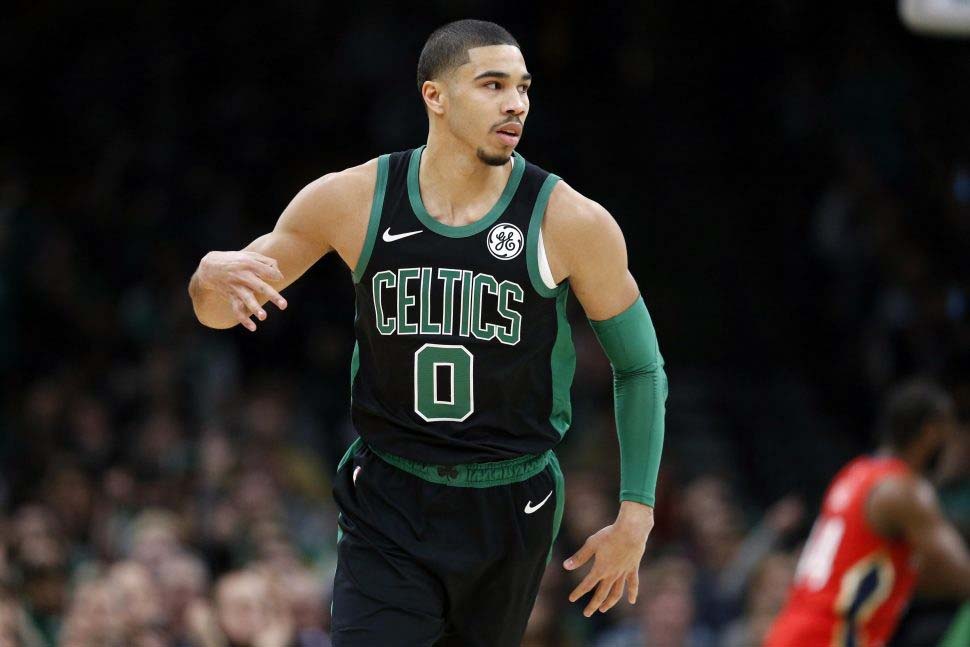 Furthermore, his team, "Duke Blue Devils," came to the final in the ACC Tournament Championship and won in opposition to the game with "Notre Dame Fighting Irish." During the match, Jayson made the record of 19 points and 8 rebounds and led the team to gain championship victory. He averaged 22 points in each game and became the "All-ACC Tournament Team." Also, he performed exceptionally in the NCCA Tournament, averaging 16.5 points per game. Doing good during his freshman season, Jayson determined to settle for the NBA.
Professional Career
The general manager of Boston Celtics, Danny Ainge, made a controversial move to take over Jayson in June 2017. Jayson was the third overall pick in the NBA draft of 2017. He debuted in the Boston Celtics during the NBA Summer League, held in Utah. He showed his capability and competent skills and became able to satisfy people's expectations. Jayson averaged 18.7 points in each game as well as 9.7 rebounds and 2.0 assists. Similarly, he performed excellently and gloriously in several tournaments. Besides, he enlisted in the "All-Summer League Second Team," where Kyle Kuzma and Bryn Forbes were already on the list.
Jayson started the NBA match in opposition to the Cleveland Cavaliers and made the record of a double-double. During the game, he made 14 points and 10 rebounds, though the team got defeat 102-99. In October 2017, he made his career-high against the game with New York Knicks with 24 points. Moreover, in December 2017, he became the "Eastern Conference's Rookie of the Month."
More About His Career
While the Boston Celtics came to the 2018 NBA Playoffs, Jayson played a significant role in the victory of his team. Notably, in the second round, he made the record of 28 points in opposite to the game with "Philadelphia 76ers". The record became the highest score in a playoff among the players of Celtics. Moreover, he made the record of being the youngest player to score more than 20 points for successive four years. Similarly, hitting another 20 pointers, he became among the two players scoring 20 points in 10 games during the rookie playoffs. Furthermore, Jayson Tatum became the NBA All-Rookie First Team in May 2018.
Jayson Tatum has also presented a national team in international tournaments. He played FIBA Under-17 World Championship in 2014, and likewise FIBA Under-19 World Championship in 2015. Furthermore, Jayson has presented Team USA at the 2016 Nike Hoop Summit.
Personal Life of Jayson Tatum
Jayson is rumored to be linked up with girls. He has a girlfriend, Samie Amos. The pair met while they were in a university. Samie, full name, Samantha Taylor Amos, also is in a Duke's volleyball team. Though they were in a relationship publicly, recently, it seems the couple is breaking up. Samie accused Jayson of cheating her on social media. Later, the news came out that Jayson has a child with Toriah Lachell, named Jayson Christopher Tatum Jr., born in January 2018.
Net Worth
From his professional career, Jayson, along with earning massive popularity, has been able to accumulate a good amount of money. His contract with the Boston Celtics is worth $12.3 million. His net worth is estimated to be about $6 million. Furthermore, he receives an annual salary of $6.17 million. Moreover, his earning comes from other endorsements contracts like Imo's Pizza, Nike, and the Jordan Brand.