Who is Toby Jones?
Toby Jones is an English actor having a peculiar face and small stature bone, who is known as one of the most popular actors among his audiences worldwide. He made his breakthrough from the biopic in 2006 named 'Infamous', he portrayed as Truman Capote. Similarly, some of his famous movies are 'The Mist' and 'Frost/Nixon' in 2008, 'Captain America: The First Avenger' and 'Tailor Soldier Spy' in 2011, 'Berberian Sound Studio' and 'The Hunger Games' in 2012, 'Tale of Tales' in 2015, 'Dad's Army' in 2016, and 'Jurassic World: the Fallen Kingdom' in 2018. He has also voiced over for Dobby in a famous magical movie 'Harry Potter and the Chamber of Secrets' and 'Harry Potter and the Deathly Hallows'. He is also known for his role in the comedy series 'Detectorists' on television for which he earned a BAFTA award.
Quick Info
Birth Name
Tobias Edward Heslewood Jones
Birth Date
7 September 1966
Place of Birth
Hammersmith, London, England
Father
Freddie Jones
Mother
Jennifer Jones
Brothers
Rupert Jones
Casper Jones
Zodiac
Virgo
Height
5 feet 5 inches (165cms/1.65m)
Weight
75kg (165lbs)
Eyes
Dark Brown
Hair
Black
Wife
Karen Jones
Daughters
Holly Jones
Madeleine Jones
Net Worth
$145 million dollars
 Bio
Toby Jones' birth name is Tobias Edward Heslewood Jones. He was born on 7 September 1966 in Hammersmith, London, England, to father Freddie Jones and to mother Jennifer Jones. His parents were actors by profession and had a theatrical background. Toby was brought up along with two brothers Rupert Jones and Casper Jones, who are also in the entertainment industry. He is currently 54 years old having Virgo as his zodiac sign.
Education
Toby Jones at his early age studied at Christ Church Cathedral School and later went to Abingdon School in Oxfordshire in the 1980s. After his schooling, he studied 3 years (1986-1989) at the University of Manchester, where he studied drama. As he belonged to a family having an acting background, he attended L'École Internationale de Théâtre Jacques Lecoq in Paris.
Nationality and Physical Stats
Toby Jones holds a British nationality and as per his ethnicity, he belongs to White. He is a devoted Christian. He stands 5 feet 5 inches (165cms/1.65m) tall and weighs 75kg (165lbs). Furthermore, he has a pair of dark brown eyes and black hair.
Social
Toby Jones has not joined any social media accounts to date.
Personal Life
Toby Jones married a criminal lawyer Karen Jones in 2014 after being together for 25 years. The couple has two daughters named Holly Jones and Madeleine Jones.
Career
Toby Jones' first professional career as an actor started in 1992 period drama 'Orlando', and his first film role was that of a valet. He also did other films in upcoming years such as 'Les Misérables', 'Ever After', 'Number time Time', and 'Naked'. Toby was featured in four episodes of the detective drama 'Midsomer Murders' from 1999 to 2000 and very soon, he was cast in 'The Play What I Wrote' of Kenneth Branagh's stage production.
He was offered to lend his voice for the character Dobby in the 'Harry Potter' movies in 2002, and a year later, he played as Lord Brideshead in 'Brideshead Revisited', which is a BBC radio production. Similarly, he played 'Ladies in Lavender' in 2004 and voiced the lead character in the radio program 'Oblomov' and also featured in two new episodes of 'Elizabeth' in 2005.
2010-2013
He was very famous for giving voiceovers for any character in the movie. So portraying in Dustin Lance Black's 2010 film 'Virginia,' he lent his voice to the character of Arnim Zola in the 2011 superhero movie 'Captain America: The First Avenger'. The same year he also lent his voice to the movie 'The Adventures of Tintin: The Secret of the Unicorn'. In 2012, he appeared in the TV series 'Titanic'. Furthermore, he also appeared as the cast of sci-fi adventure flick 'The Hunger Games' as Claudius Templesmith'.
Furthermore, in the same year, Toby Jones starred as Alfred Hitchcock with his co-actor Sienna Miller in 'The Girl'. It was a drama telefilm about a man who develops an obsession for an actress and subjects her to trauma when she rebuffs his advances. This performance of his earned him multiple award nominations. Since 2013, Toby has been voicing the lead character, Joey Oldman, in BBC Radio 4's 'The Corrupted'.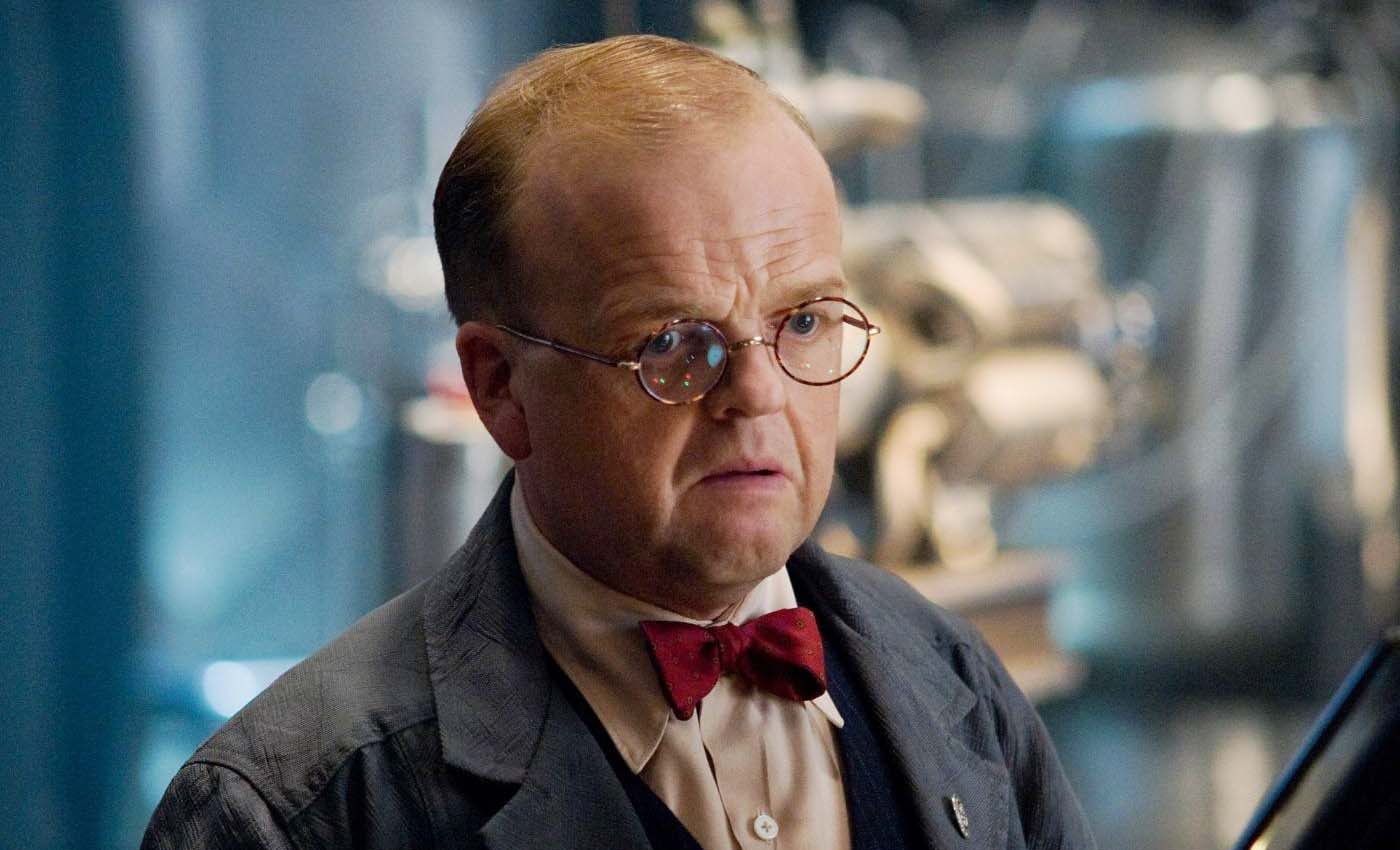 2014-Present
He played a comedy genre drama series named 'Detectorists', where he played the character of Lance Stater from 2014 to 2017. For this performance, he won a 'British Academy Television Award.' During the same time, he also played for the television film 'Marvellous' that, too, earned him the 'British Academy Television Award for the Best Actor.' He has also played roles in films such as 'Captain America: The Winter Soldier' in 2014, 'Alice Through the Looking Glass' in 2016, and Atomic Blonde in 2017.
In 2018, he again provided his voice to the character of Owl in the fantasy comedy movie 'Christopher Robin.' And in the same year, he was starred in the revival of Harold Printer's play 'The Birthday Party'. In addition, he signed deals to appear in the blockbuster 'Jurassic World: the Fallen Kingdom' in 2018, which raised the US $1.3 billion at the worldwide box office and Antoine Fuqua's science fiction feature, 'Infinite' in 2020, starring Mark Wahlberg. He also played the role of Pau Schuster in the movie The Last Thing He Wanted alongside Anne Hathaway, Ben Affleck, Rosie Perez, Edi Gathegi, Mel Rodriguez, and Willem Dafoe.
Achievements
Toby Jones has received many nominations and awards for his excellent performances. He has received nominations for the film 'The Girl' he did in 2013 and also for 'Marvellous' in 2015. Likewise, in 2007 he won 'British Actor of Year' for his performance in 'Infamous' and also in 2013 the same award for 'Berberian Sound Studio'. He also got 'Best Male Comedy Performance' for his comedy-drama series name 'Detectorists' in 2018.
Net Worth
Jones being a prominent television, radio, voice-over actor has earned massive popularity from his filmy career. Along with gaining name and fame, he has been able to make a handsome amount of money. Toby Jones has an estimated net worth of about $145 million dollars.