Who is Tony Ganios?
Tony Ganios is a big name in the entertainment industry. Professionally, he is an actor. You may know him from his role in movies The Wanderers and the Comedy Porky's film series. He is a semi-retired actor who has been working in the entertainment industry since 1979.
Bio
Tony Ganios, an American actor, was born on October 21, 1959, in Brooklyn, New York, USA. He is the ethnicity of Greek and Italian descent, and he belongs to the American Nationality. Information about his parent's name and their profession are unknown to the public. He had an estranged older brother Louis who unfortunately died on April 11, 2014. Tony attended two schools; at first "Trinity Elementary School", and next to the "Issac E. Young Junior High School".
Tony Ganios Height
Ganios wants to remain away from the spotlight, even about his heights, weights, and measurements are unknown.
Career
At the age of 18, Tony's uncle Pete pushed him into the film industry. Also, his uncle made him start a powerlifting workout in Manhattan at the Sheridan Square Gym for the role to play in a movie directed by Philip Kaufman. This resulted in his debut in the film industry from the part of heroic tough-guy Perry in a comedy-drama film "The Wanderers" in 1979. The next year, Ganois was cast in various movies like "Continental Divide", "Back Roads" and others. Furthermore, the actor showed his appearance in the hit sex comedy Porky's starring with Scott Colomby, Kim Cattrall, and more. Also, in 1987 he made his debut in television through a TV series "Scarecrow and Mrs King".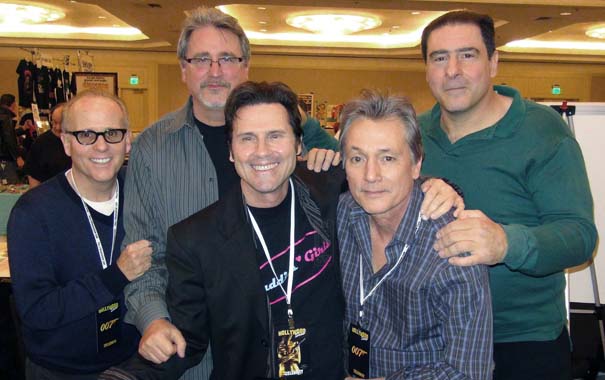 The following year, Ganois was seen to have an appearance in another TV project "Wiseguy" like Mike "Mooch" Cacciatore, sharing the screen with Jonathan Banks, Jim Byrnes, and Steven Bauer. Ganis popularity was gained from movies to television. Going on, the actor hit a significant role in 1990 in the famous film "Die Hard 2". Further, another hit film "Rising Sun" also helped his name go popular. Doing several hit movies in the box office, Tony in 1993 semi-retired from acting. However, he started doing voice works for the low budget YouTube animated series along with Veteran actress Leslie Easterbrook. Ganois has also used in New York City as an insurance agent.
More about Ganois
Ganois, to launch a Kickstarter campaign to produce a teen-sex comedy has reunited with some of his Porky's co-stars in 2012, to be called "Daddies' Girls". Though as per 2017, the film was not produced.
.
Personal Life
Talking about his personal life, Tony is not that open about him. He has given no information about his love life or his wife. As Tony is also not that active on social networking sites, it had been harder to know about his personal stuff.
Net Worth
Collecting a name and fame from his career, Ganois has also managed a handsome amount of money. His net worth is about $1 million according to the source of 2019. Working in dozens of movies, his primary sole in the film "Die Hard 2" had crossed a huge box office collection of about $240 million against $70 million