Who is Tony Hale?
Tony Hale is a well-known American actor and comedian. He is known for his versatility in acting. The actor is best known for his role as neurotic Buster Bluth in the Fox comedy series 'Arrested Development.' He has also been honored with several awards for his amazing roles. He has featured in films, television series, and music videos. Along with that he is also a voice actor and is voicing as Archibald in the Netflix series 'Archibald's Next Big Thing.'
Quick Info
Celebrated Name
Tony Hale
Profession
Actor, Comedian
Birth Date
September 30, 1970
Birth Place
West Point, New York, US
Star Sign
Libra
Parents
Father: Mike Hale
Mother: Rita Hale
Wife
Martel Thompson
Daughter
Loy Ann Hale
Net Worth
$12 million
Nationality
American
Religion
Christian
Height
6 feet 1 inch (1.85m/185cm)
Weight
80 kg (176) pounds
Hair Color
Brown
Eye Color
Brown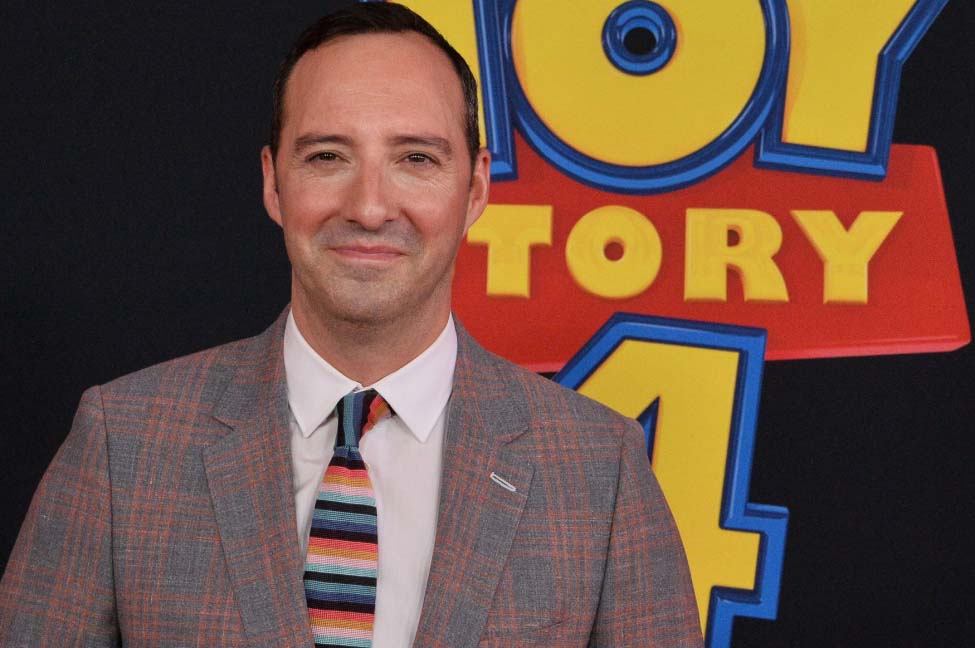 Bio
Tony Hale was born on September 30, 1970, in West Point, New York, United States. His father Mike Hale taught nuclear and atomic physics and served in the military and his mother Rita worked as a staff assistant to State Representative. He is currently 49 years old with a Libra sun sign.
Nationality and Physical Stats
Tony Hale holds an American nationality and follows Christianity. Besides this, he stands 6 feet 1 inch (1.85m/185cm) tall and weighs around 80 kg (176) pounds. He has a pair of brown-coloured eyes and brown hair coloured.
Early Life/ Education of Tony Hale
Tony Hale grew up in Tallahassee, Florida. He attended Leon High School graduated in 1988. He also attended the Young Actors Theatre and participated in numerous theatrical and musical productions. For his college, he graduated from the School of Communication and the Arts of Regent University in Virginia, Samford University in Birmingham with a journalism degree in 1992. He also studied acting the William Esper Studio in the Professional Actor Training Program.
Career
Television
Tony Hale started his acting career in TV by appearing in minor supporting roles. He did 'Ghost Stories' as Billy in 1997. He also did 'Legacy' in 1998 as Hyram in an episode of 'The Gift.' Tony received his breakthrough moment when he was cast in 'Arrested Development' as the main lead Buster Bluth who is the neurotic son with mother issues. It ran from 2003-2006, 2013-2018, and 2019. This series earned him many nominations and awards as well as recognition. Likewise, he also had an appearance in 'Stacked' in an episode of 'Beat the Candidate' in 2005.
In 2007, Hale was cast in a co-starring role as the video store owner Simon in the NBC sitcom 'Andy Barker P.I.' starring Andy Richter. He also appeared in minor roles in 'Rules of Engagement' in 2009 and 'The Life and Times of Tim' in 2010. Furthermore, some of his notable project in the early 2010s was 'Justified,' 'Human Target,' 'Good Vibes' 'Law and Order,' 'Comedy Bang! Bang!' and 'Drunk History.' In 2012, he became a cast in the HBO comedy 'Veep' as Gary Walsh, the personal assistant to Vice President-turned-President. He also won Primetime Emmy Award for his performance in this comedy series.
Additionally, in 2015 and 2017 he voiced over Doctor in 'Jake and the Never Land Pirates' and Matthew in 'Animals' respectively. His recent television series in 2017 and 2018 are 'Rick and Morty,' 'Difficult People,' 'A series of Unfortunate Events,' and 'Mickey and the Roadster Racer.' Moreover, in 2019 he joined the cast as producer and voice actor in 'Archibald's Next Big Thing' which is running until now. He also featured in nine episodes of 'Crossing Swords' as a voice role to Blarney in 2020.
Film
Tony's first film debut as an actor was 'Stateside' as Donny which released in 2003. He then appeared in supporting roles for various movies. He also did movies like 'Unaccompanied Minors,' 'RV' and 'Stranger Than Fiction' in 2006. The next year he starred in 'Because I said so' as Stuart and in 'Dante's Inferno' as a voice actor in 2007. Likewise, he did 'The Answer Man' in 2009 and 'In My Sleep' in 2010. Some of his notable role in 2012 is Wilbur Wright in 'First in Fight'. In 2013, he featured in 'The Heat' as The John alongside Sandra Bullock, Melissa McCarthy, Demian Bichir, Marlon Wayans, Michael Rapaport, and Jane Curtin.
Furthermore, Tony is also known for his voice actor in the movie 'The Angry Birds Movie' as Ross, Mime, and Cyrus voice. The same year he also did 'Brave New Jersey' as Clark Hill. The next year he appeared in 'And Then I Go' as Mr. Mosley which starred Melanie Lynskey and Justin Long. He also lent his voice as Forky in computer-animated comedy film produced by Walt Disney Pictures 'Toy Story 4' in 2019, the fourth sequel of Toy Story. Again, he reprised his voice role of Mime in the sequel film 'The Angry Birds Movie 2' the same year. He had his recent appearance in the fiction film 'Nine Days' as Alexander, in 2020.
Achievements
Tony Hale has won Primetime Emmy Award in 2013 and 2015 for supporting roles in his series 'Veep.' He has also won Screen Actors Guild Award in 2017 for the same series.
Personal Life of Tony Hale
Tony Hale married Martel Thompson in 2003. Moreover, the couple is also blessed with a baby girl Loy Ann Hale.
Social
Tony Hale is very active in social media. His Twitter and Instagram handles (@mrtonyhale) have 175.1 thousand and 195 thousand followers respectively. Likewise, his official Facebook page has more than 15 thousand likes and followers.
Net Worth
Tony Hale is an amazing actor and comedian has earned massive amounts to popularity along with money. His estimated net worth as of 2020 is $12 million.