Who is Billy Crudup?
Billy Crudup, a famous American actor, was born on July 8, 1968, in Manhasset, New York, USA. Born as the son of Georgann, and Thomas Henry Crudup III. His parents divorced when he was in his childhood days but later remarried. Billy is grown up with two brothers, Tommy, who is an executive producer, and Brook, also a producer. When he was eight years old, he left New York with his family.
Billy is a graduate of Saint Thomas Aquinas High School in 1986 in Fort Lauderdale, Florida. He received an undergraduate degree from the University of North Carolina at Chapel Hill. He continued his acting passion with the "LAB! Theatre", undergraduate acting company. Also, he acted in the most popular show of UNC-STV's "General College." He was also a member of Delta Kappa Epsilon's Beta Chapter. He was then enrolled in the New York Univerity's Tisch School of the Arts graduate acting program. Also, he had a degree from a Master of Fine Arts in 1994.
Career
After graduation, Billy made his debut on Broadway in the production of Tom Stoppard's Arcadia in the Lincon Centre Theatre. He also received a Tony Award Nomination in 2002 for Best Actor in a Play for his role in the title character in "The Elephant Man." Also, for his role as Katurian, he was in a 2005 nomination. In 2010, he appeared in "The Metal Children" in 2010, which was directed by Adam Rapp. In 2011, for his role in the Broadway revival of Arcadia, he received a Tony Award nomination for Featured Actor in a play. Recently in 2017, he had an appearance in the world premiere of David Cale's one-man play Harry Clarke at Vineyard Theatre.
More
Billy's career started in films like "Sleepers" in 1996, "Inventing the Abbotts," in 1997, "Without Limits" in 1998. In Sleepers, he starred alongside Brad Pitt. He there portrayed the role of Olympian and running legend Steve Prefontaine. Moreover, he starred as Ashitaka as his first role in an animated feature English film "Princess Mononoke" in 1999. He then, as a lead guitar player of the fictional band Stillwater in "Cameron Crowe's Almost Famous," played as the role of Russell Hammond in 2000. Also, 2006 played the role of British spy Arch Cummings, a stand-in for Kim Philby in "The Good Shepherd," alongside Nyasha Hatendi. Also, in the same year, he appeared as a supporting role in the film "Mission Impossible III." Later, he gained the leading role in the movie "Dedication" as the role of Henry Roth in 2007.
Growing more in the industry, he was gaining the leading roles. He completed his film "Watchmen" inf Vancouver, British Columbia, with the director "Zack Synder," where he portrayed the role of Doctor Manhattan. In a movie about 2008's financial crisis, "Too Big to Fail," he played as a former US Secretary of the Treasury Timothy Geithner.
Personal Life of Billy Crudup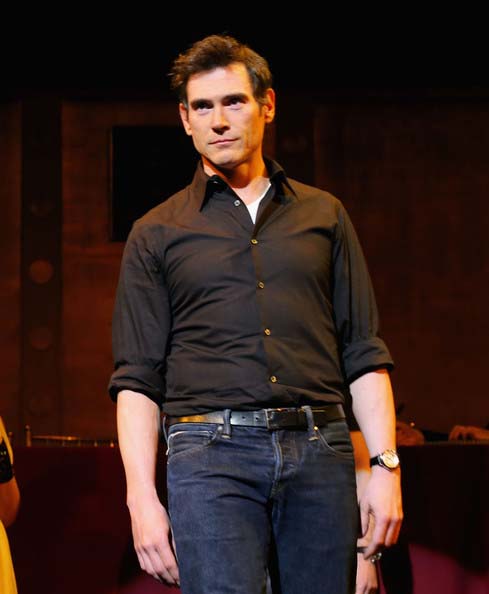 About his personal life, Billy was in a relationship with Mary-Louise Parker from 1996 to November 2003. Parker was even pregnant with Billy's son, but Billy left her during her seventh month for the actress Claire Danes. Claire and Billy ended up after their four years together.