Who is Helena Bonham Carter?
Helena Bonham Carter is an English actress who has contributed her 37 years of life in the acting field. She came from political background family and started her filmy career playing debut in 1985 film 'A Room with a View.' She is best known for portraying Kate Croy in the film 'The Wings of the Dove.' She is also known for her love affair with the filmmaker Tim Burton. Tim and Helena worked together in different movies like 'Planet of the Apes,' 'Big Fish,' 'Sweeny Todd,' and 'Alice in Wonderland.' Likewise, she has also received nominations and prestigious awards for her contribution to this industry. She was named in Top 10 British Actresses of all time by 'The Times' and was also ranked in number 99 for 100 most powerful people in British culture by 'Telegraph's list.'
| Quick Info | |
| --- | --- |
| Full Name | Helena Bonham Carter |
| Birth Date | May 26, 1966 |
| Birth Place | Islington, London, England |
| Father | Raymond Bonham Carter |
| Mother | Elena |
| Brother | Edward and Thomas |
| Zodiac | Gemini |
| Age | 54 years old |
| Religion | Christianity |
| Height | 5 feet and 2 inches (154cm/1.54m) |
| Weight | 55 kg (121lbs) |
| Body Measurement | 35-26-34 inches |
| Boyfriend | Rye Dag Holmboe |
| Net Worth | $60 million |
Bio
Helena Bonham Carter was born on May 26, 1966, in Islington, London, England. She was born to parents Raymond Bonham Carter and Elena who were a merchant banker and a psychotherapist respectively. She was born on the political family as her paternal grandparents were successful politicians. Helena grew up alongside two older brothers named Edward and Thomas. She is of Gemini sun sign and currently 54 years old.
Nationality and Physical Stats
Helena Bonham Carter holds British nationality and is follows Christianity. Besides this, she stands 5 feet and 2 inches (154cm/1.54m) tall and weighs 55 kg (121lbs). Her body measurements are 35-26-34 inches respectively. She has a pair of dark brown coloured eyes with dark brown hair colour complimenting her body figure.
Early Life/Education
Helena Bonham Carter childhood was very disturbing as her mother had a serious nervous breakdown and took three years to recover. Her father also had a tumour and in that surgery, he faces many complications which made him half-paralyzed. She did her schooling from South Hampstead High School. She then graduated from Westminster School by doing A-levels. Since she was interested in acting, she appeared in a TV commercial when she was just sixteen years old.
Personal Life
Helena Bonham Carter was in a relationship with Kenneth Branagh while Kenneth was still married. Due to Helena, Kenneth divorced his wife and dated her for five years and ended their relationship. She then dated Tim Burton in 2001 and together have two children, a son named Billy Raymond Burton and a daughter named Nell Burton. This couple separated after having an affair for 13 years in 2014. Then after, she secretly dated an author Rye Dag Holmboe. This couple has a very private relationship.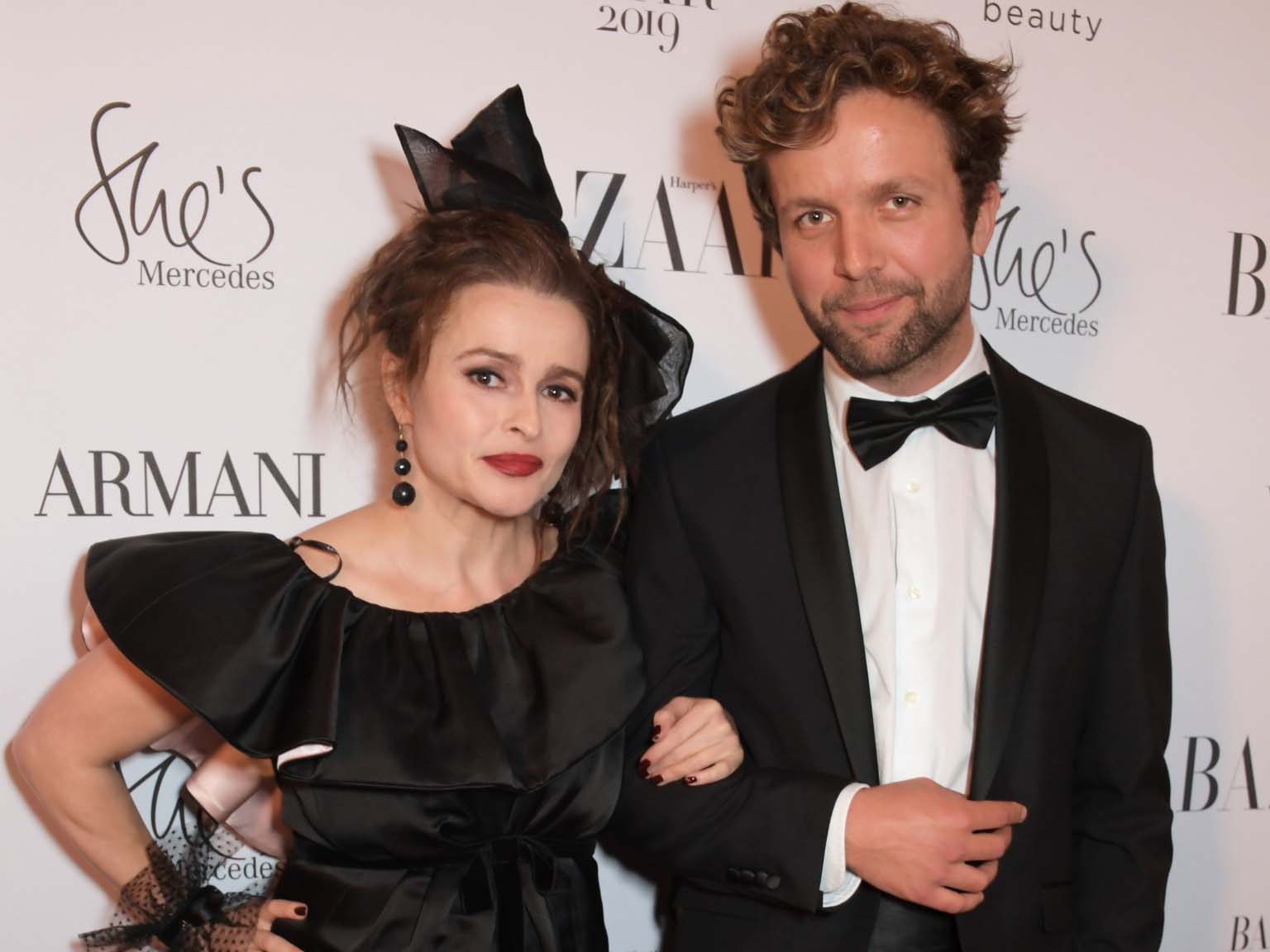 Social
Helena Bonham Carter does not have any social media accounts to date.
Career
Television
Helena Bonham Carter started her television career from 1983 in a television film 'A Pattern of Roses' as Netty. Thereafter, she appeared in 'Miami Vice' in 1987, 'Screen Tow,' in 1988, 'Theatre Night' in 1989 and 'Jacanory' in 1991. She also featured in 1993 TV film 'Dancing Queen' as Julie. She then appeared TV miniseries named 'A Dark-Adapted Eye' in 1994. The same year she appeared in 'Absolutely Fabulous' and 'The Good Sex Guide.'
In between 1996 to 2010 she appeared in TV series as a minor supporting role like 'The Great War and the Shaping of the 20th Century,' 'Merlin,' 'Henry VII,' and 'Life's too short.' She also appeared in TV films during that time named 'Magnificent 7' in 2005, 'Enid' in 2009 and 'Toast' in 2010. Her other television films are 'Burton & Taylor' in 2013 and 'Turks & Caicos' and 'Salting the Battlefield' in 2014. Similarly, in 2019 she got her main lead in historical drama web TV series 'The Crown' as Princess Margaret.
Film
Helena Bonham Carter landed her film debut in 1985 in A Room with a View. This was followed by 'Lady Jane' in 1986 where she performs the titular role and tells the story of Lady Jane's reign, and romance with husband Lord Guilford Dudley. Likewise, she appeared in the 1987 film 'Maurice' as a cameo role. During the 1980s and 1990's she appeared in many films and to name few they were, 'A Hazard of Hearts,' 'Francesco,' 'Hamlet,' 'Where Angels Fear to Tread,' 'Fatal Deception: Mrs Lee Harvey Oswald,' 'Jeremy Hardy Gives Good Sex,' 'Sweet Revenge,' 'Fight Club' and many more. She received fame from 1997 film 'The Wings of the Dove,' based on the novel written by Henry James. She played the manipulative character named Kate Croy which led her an 'Oscar' nomination and many other accolades.
More
Likewise, she also had an uncredited cameo role in the 2004 film 'Lemony Snicket's A Series of Unfortunate Events' as Beatrice Baudelaire. During 2005 she appeared in' Charlie and the Chocolate Factory,' 'Conversations with Other Women,' 'Corpse Bride' and 'Wallace & Gromit: The Curse of the Were-Rabbit.' Helena became more popular when she was cast as the villainous female Death Eater named Bellatrix Lestrange in the famous 'Harry Potter' film series from 2007 to 2011. She appeared alongside casts Emma Watson, Daniel Radcliffe and Rupert Grint to name a few.
Similarly, in 2010 she starred in two films with a very strong role like 'Alice in Wonderland' as Red Queen and 'The King's Speech' as Queen Elizabeth. She also appeared in 'Great Expectations' as Miss Havisham in 2012. In 2015 film named 'Cinderella' she has a nice role of The Fairy Godmother. Furthermore, in 2018 she voiced over the character Margaret Conroy in animated film 'Sgt. Stubby: An American Hero.' Recently, she is busy with her upcoming film 'Enola Holmes.'
Achievements
Helena Bonham Carter has won BAFTA Award under the category Best Supporting Actress and has also shared the Screen Actors Guild Award with her co-stars for her work in 'The King's Speech' in 2011. She has also received Empire Awards under the Best Actress category for her work in 'Sweeney Todd' and 'Fight Club.'
Net Worth
Helena Bonham Carter is an amazing actress who has gained popularity as well as a handsome amount of money. As of 2020, her net worth is estimated to be $60 million.