Who is Sakina Jaffrey?
Sakina Jaffrey is an American actress who has actively worked in the entertainment industry since 1988 to date. She descends from a highly reputed family whose parents are from the show business industry. Her father is an iconic Indian-British actor while her mother is also an actress. She followed the path of her parents are stepped into the field of entertainment and pursued acting as her career. Likewise, she is best known for her role of Doctor Hickman in the crime drama television series, 'Third Watch.' Moreover, she is also famous for her acting role in the Netflix original series 'House of Cards' where she played Linda Vasquez, one of the White House Chief of Staff. Sakina has also received nominations and accolades for her acting role.
Quick Info
Full Name
Sakina Jaffrey
Profession
Actress
Birth Date
14 February 1962
Birth Place
New York City, New York, United States
Parents
Saeed Jaffrey
Madhur Jaffrey
Siblings
1 sister- Meera Jaffrey
Husband
Francis Wilkinson (1990-Present)
Children
2 kids- Cassius Wilkinson and Jamila Wilkinson
Net Worth 2021
$3 million
Nationality
American and Indian
Star Sign
Aquarius
Height
5 feet and 8 inches (1.74m/174cm)
Weight
61kg (134lbs)
Body Measurements
32-26-32 inches
Bio
Sakina Jaffrey was born on 14 February 1962 in New York City, New York, United States. She was born to her father Saeed Jaffrey and to her mother Madhur Jaffrey. Both of her parent's profession was actors and her mother also was a food and travel writer. Sadly, her parents divorced when she was just three years old. After this, her mother raised her and she grew alongside her sister whose name is Meera Jaffrey in New York. Additionally, she is currently 59 years old with an Aquarius star sign.
Early Life/Education
Sakina Jaffrey graduated with a major in the Chinese language from Vassar College which is a private liberal arts college in Poughkeepsie, New York. From her early age, Sakina became interested in the language and the culture of the Chinese people through her sister. Initially, she decided on working as a translator and had no plans of pursuing acting as her career. But as time passed, she showed interest in acting and pursued an acting career. Talking more, she completed her education at some local schools in the country whose name is not disclosed.
Nationality, Height, Weight
Sakina Jaffrey holds an Indian as well as an American nationality. She belongs to Asian ethnicity with Indian ancestry. Talking about her religion, she follows Roman Catholic and she practices Christianity. Besides this, she stands 5 feet and 8 inches (1.74m/174cm) tall and weighs around 61kg (134lbs). She has a slim body type measuring 32-26-32 inches respectively. Moreover, she has a pair of brown-colored eyes with medium brown hair color.
Social (Instagram, Twitter)
Sakina Jaffrey is active on her social media accounts. Her Instagram account (@sakinajaffrey) has 6.4 thousand followers and her Twitter account (@sakinajaffrey) has 17.8 thousand followers.
Personal Life
Sakina Jaffrey tied a knot to a journalist named Francis Wilkinson in 1990. This couple is blessed with two children named Cassius Wilkinson and Jamila Wilkinson. They currently reside in Nyack, New York, and are living a happy lifestyle.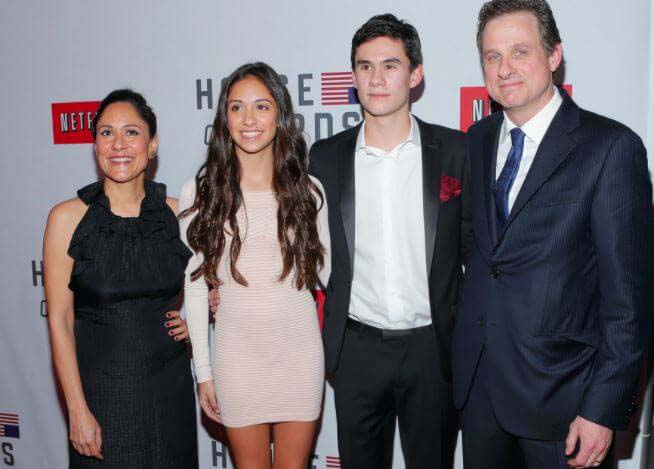 Career
Movies of Sakina Jaffrey
Sakina Jaffrey landed her debut film role in the 1988 film, 'The Perfect Murder' as Neena Lal. She then appeared in 'Slaves of New York' as Wilfredo's receptionist in 1989. After this, she appeared in various movies in the 1990s. They were 'Masala,' 'The Indian in the Cupboard,' 'Daylight,' 'Chutney Popcorn,' and 'Cotton Mary.' Likewise, she then starred in 'Revolution No. 9' and 'The Mystic Masseur' in 2001, 'The Guru' and 'The Truth About Charlie' in 2002, and 'Raising Helen' in 2004. She also played in 'The Manchurian Candidate' as Mysterious Arabic Woman in 2004. In 2007, she starred in the drama film, 'Where God Left His Shoes' as Doctor, comedy-drama film, 'The Nanny Diaries' as Sima, and in crime thriller film, 'Before the Devil Knows You're Dead' as Manager. Sakina also appeared in 'Definitely, Maybe,' 'The Understudy,' and 'The Ode' in 2008.
Furthermore, she also appeared in the TV film 'Nevermind Nirvana' in 2010. The next year, she starred in the sports comedy film, 'Breakaway' as Livleen Singh. Likewise, she also had her role in 'The Domino Effect' in 2012 as Serena. After this, she directly played in the 2016 drama film, 'Claire in Motion' as Maya. Her next film appearance came in 'The Meyerowitz Stories' in 2017, 'Red Sparrow,' 'Behold My Heart,' and 'The Equalizer 2' in 2018. Sakina also played the role of Mrs. Patel in 'Late Night' in 2019. Her latest played film is 'Soul' in 2020 where she had a voice role of Doctor.
TV Shows
Sakina Jaffrey landed her first television role in an episode of 'Law and Order' in 2000. She then played the role of Dr. Hickman in 16 episodes of 'Third Watch' from 2003 to 2005. Meanwhile, she also had an episode role in 'Sex and the City in 2004. Her other small role series are 'Heroes' in 2006, 'Law & Order: Special Victims Unit in 2007, 'Blue Bloods' in 2011, 'Girls' in 2012, and 'Blindspot' in 2016. Moreover, she is well-known for her acting in the political thriller streaming television series 'House of Cards' where she played the role of Linda Vasquez from 2013 to 2018. It starred Kevin Spacey, Robin Wright, Corey Stoll, Kate Mara, Michael Kelly, Kristen Connolly, Sandrine Holt, Greg Kinnear, and many different actors and actresses.
Similarly, she is popular for her role in 'Sleepy Hollow' as Sheriff Leena Reyes from 2014 to 2015, 'Madam Secretary' as Chondita Samant from 2014 to 2018, 'Mr. Robot' as Antara Nayar from 2015 to 2017, and 'The Mindy Project' as Sonu Lahiri from 2015 to 2016. This actress has also perfectly played the role of Agent Denise Christopher in 'Timeless' in 26 episodes from 2016 to 2018. She has also played in the documentary film, 'The Problem with Apu' in 2017. Her other roles are 'Homeland' as Dr. Meyer in 2018, 'American Gods' and 'Lost in Space' in 2019. Moreover, she also had a main role in 'Defending Jacob' as Lynn Canavan in 2020. Recently, she appeared in two episodes of 'Snowpiercer' as Dr. Headwood in 2021.
Awards 
Sakina Jaffrey has received nominations from the Screen Actors Guild Awards in 2015 for her role in House of Cards under the Outstanding Performance by an Ensemble in a Drama Series category.
Net Worth of Sakina Jaffrey
Sakina Jaffrey has an approximate net worth of $3 million as of 2021.
Others