Maria Bello is an American actress and writer who has actively worked in the entertainment industry since 1991. She is famous for her roles in the films: "Permanent Midnight," "Payback," "Coyote Ugly," "The Cooler," "A History of Violence," "The Mummy: Tomb of the Dragon Emperor," "Prisoners" and "Lights Out."
Likewise, Bello is also famous for her role as Dr. Anna Del Amico in the television medical drama "ER," as Lucy Robbins on the series "Touch," as Michelle McBride on the first season of the series "Goliath" and as Special Agent Jacqueline "Jack" Sloane on the series NCIS. Moreover, the Guardian named her one of the best actors, never to have received an Academy Award nomination.
| Quick Info | |
| --- | --- |
| Full Name | Maria Elena Bello |
| Birth Date | April 18, 1967 |
| Birth Place | Norristown, Pennsylvania, the United States |
| Father | Joe Bello |
| Mother | Kathy Bello |
| Religion | Roman Catholic |
| Height | 5 feet 5 inches (1.65 m) |
| Weight | 55 kg (121 lbs) |
| Body Measurement | 33-25-34 inches |
| Eyes | Blue |
| Hair | Blonde |
| Fiancee | Dominique Crenn |
| Net Worth | $12 million |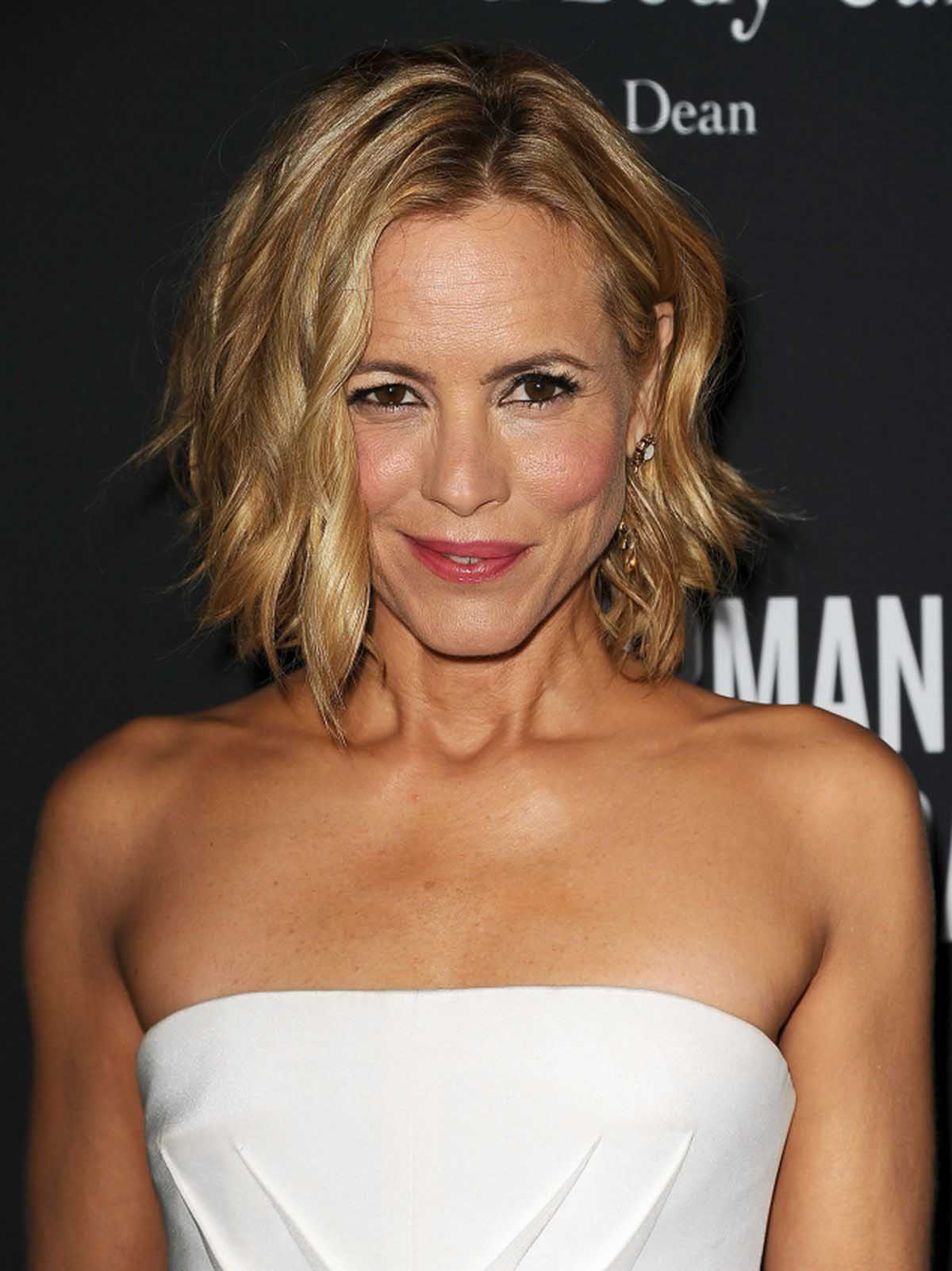 Where was Maria Bello born?
On April 18, 1967, Maria Bello was born in Norristown, Pennsylvania, the United States, with Maria Elena Bello's name. She is currently 54 years old. Her zodiac sign is Aries. She is the daughter of Joe Bello and Kathy Bello. Kathy is a school nurse and teacher by profession, whereas Joe is a contractor.
Furthermore, Her father is Italian American with roots in Montella, Italy and her mother is Polish American. Bello grew up in a working-class Roman Catholic family. She has a sister Lisa Bello and two brothers, Christopher Bello and Joseph Bello.
Where did Maria complete her education?
She had studied at Archbishop John Carroll High School in Radnor, Pennsylvania. After her graduation, she attended Villanova University, where she majored in political science. Following her graduation, Maria honed her acting skills in several New York theatre productions.
What are Maria Bello's distinctive features?
Bello is American by nationality and is of the white race. She belongs to Italian Polish American descent. Furthermore, she follows the Roman Catholic religion.
Bello stands 5 feet 5 inches (1.65 m) in height, and her weight is about 55 kg (121 lbs). She has a slim body with a measurement of 33-25-34 inches.  Additionally, her hair color is blonde, and her eye color is blue.
Who is Maria Bello currently dating?
Bello was in a relationship with Dan McDermott. The couple has a son. Bello had written about having a same-sex relationship with her then-partner, Clare Munn, in 2013. In 2015, she published a book, "Whatever… Love is Love: Questioning the Labels, We Give Ourselves."
Bello announced that she and her now-fiancee, chef Dominique Crenn got engaged on December 29, 2019, in Paris, France, while attending the 92nd Academy Awards. This was their first public appearance as a couple.
What are Maria's social media handles?
Maria Bello has an active Instagram account as @officialmariabello with 135 thousand followers. Furthermore, she also owns a Twitter account as @maria_bello with 72.7 thousand followers.
How did Maria Bello begin her career?
Bello started her acting career on television, which includes the episodes of "The Commish" in 1991, "Due South" in 1994, "Nowhere Man" in 1995, "Misery Loves Company" in 1995, and "ER" In 1997-1998. Furthermore, she starred in her breakthrough role as Mrs. Smith in the TV series spy show "Mr. & Mrs. Smith" alongside Brad Pitt, Angelina Jolie, and others. She reprised her role in the final three episodes of the third season of "ER" as pediatrician Dr. Anna del Amico. She was a regular cast member during the medical drama's fourth season.
In 2000, she moved to the films, landing her role in "Coyote Ugly" alongside cast Tyra Banks, Adam Garcia, and others. Bello appeared as Jocelyn in "The Jane Austen Book Club" in 2007 and as Dr. Alex Sabian in the film "Assault on Precinct 13," which is a remake of the original 1976 movie made initially by John Carpenter in 2005. In 2008, she portrayed herself with the role of Evelyn O'Connell in "The Mummy: Tomb of the Dragon Emperor" and began developing a drama for HBO.
Bello planned to also serve as an executive producer and starred in the 2009 drama film "The Yellow Handkerchief." In 2010, Bello starred as a guest in two- episodes of "Law & Order: Special Victims Unit." Eventually, in the next year, she starred in the TV series Prime Suspect. In the same year, 2011, she became a founding board member of the CQ Matrix Company, a company created by her then-partner, Clare Munn, to help clients achieve "transformative living and the power of intelligent exchange" by enhancing their communication quotient. Bello appeared alongside Frank Grillo in the James Wan-produced thriller film "Demonic."
Humanitarian efforts
Bello founded WE ADVANCE with Aleda Frishman, Alison Thompsom, and Barbara Guillaume to aftermath the Haiti earthquake in 2010. It is an organization that encourages Haitian women to collaborate to make healthcare a priority and end domestic violence within their communities. Furthermore, the organization is working in a health clinic and a community outreach center in Cite Soleil. Bello is also a board member of Darfur Women Action Group, an NGO that undertakes activism on behalf of genocide victims of the Darfur Conflict.
Has Maria Bello won any awards?
Bello is a famous actor who has contributed to many movies and has been nominated for numerous awards and won several of them. She has won Screen Actors Guild Award for "Outstanding Performance by an Ensemble in a Drama Series" from "ER" in 1997. Furthermore, In 2000, Bello won the title "Favorite Supporting Actress" in Blockbuster Entertainment Awards from "Coyote Ugly." Moreover, She won Satellite Award for "Best Supporting Actress" from "The Cooler" in 2003.
Subsequently, in 2005, she won Central Ohio Film Critics Association Award, Chicago Film Critics Association Award, Kansas City Film Critics Circle Award, New York Critics Circle Award, Online Film Critics Society Award, and Village Voice Film Poll Award for "Best Supporting Actress" from "A History of Violence." She has also won "Best Actress" in RiverRun International Film Festival's Jury Prize from "The Sisters" in 2006 and "Best Cast" in the National Board of Review Award from "Prisoners" in 2013.
What is the Net Worth of Maria Bello?
Maria is living a luxurious life. She is a famous actress who has earned a lot of money as well as fame. Maria Bello currently has about $12 million approximately.