Washington Spirit
An American professional soccer club, The Washington Spirit, is based in Germantown, Maryland. The club participates in the National Soccer League (NWSL). It continues to field both an amateur WPAL team and a youth team, as it is a continuation of D.C. United Women of the W-League. Moreover, both are under the Spirit's name, which is coached by Richie Burke.
The Washington Spirit has a home in the Maryland SoccerPlex, situated in Germantown, Maryland, since the inaugural 2013 season. Besides, they play their home games at the main stadium, Maureen Hendricks Field in June 2013 in the development of women's professional soccer and the SoccerPlex facility, in honor of Hendrick's role. The facility has also been home to the Washington Spirit Reserves in the WPSL.
The Sprit coordinated with DC United to play home matches in Buzzard Point at Audi Field in Washington D.C., during the starting of the 2018 season. Likewise, on August 25 of that season, the Spirit played their first match, hosting the Portland Thoms. Moreover, the match was viewed as a means to generate more interest in the team and was registered as the highest attended game of the team.
Furthermore, the team recently in 2019 announced to be the host of two matches at Audi Field. he Spirit had announced a broadcast partnership with the NBC Sports Washington and Monumental Sports Network, at the beginning of 2019.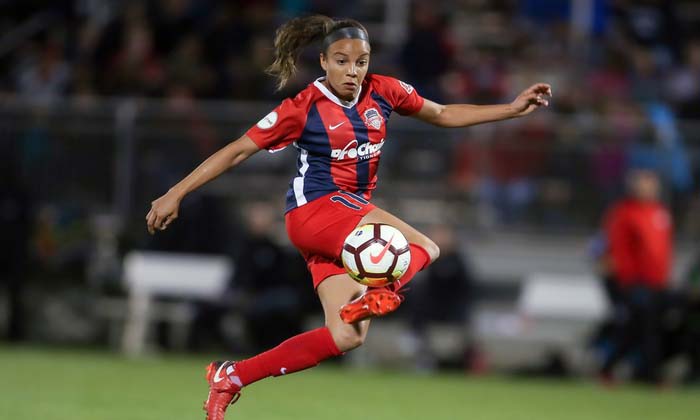 Current Squad of Washington Spirit:
As of July 15, 2019
1 Goalkeeper        Aubrey Bledsoe, as well as
2 Forward               Arielle Ship
3 Defender            Sam Staab
4 Midfielder           Jordan DiBiasi
5 Defender            Megan Crosson
6 Midfielder           Chloe Logarzo
7 Defender            Amy Harrison
8 Midfielder           Meggie Dougherty Howard
9 Defender            Tegan McGrady
10 Midfielder           Rose Lavelle
11 Forward               Mallory Pugh
12 Midfielder           Andi Sullivan
13 Midfielder           Bayley Feist
14 Forward               Paige Nielsen
16 Forward               Tiffany McCarty
17 Forward               Cali Farquharson
18 Defender            Mackenzie Berryhill
19 Midfielder           Dorian Bailey
20 Forward               Cheyna Matthews
22 Forward               Mallory Eubanks
23 Midfielder           Tori Huster
24 Defender            Carlin Hudson
28 Midfielder           Elise Kellond-Knight
30 Goalkeeper        Shea Yanez
31 Forward               Crystal Thomas
32 Forward               Grace Cutler
33 Forward               Ashley Hatch
Current staff
As of July 9, 2019
Executive
Majority Owner Steve Baldwin, as well as
Minority Owner Bill Lynch
Chief Executive Officer Larry Best
Coaching staff
Head Coach Richie Burke from England, as well as
Player/Opponent Analyst Tom Torres from united States
High-Performance Coach Michael Minthorne from the United States
Goalkeeper Coach Ian McCaldon from England
Team Performance Coach Christian Cziommer from Germany
Reserve Team Head Coach Kati Jo Spisak from the United States
Athletic Trainer Julie Beveridge from the United States
Head Coaches of Washington Spirit
Mike Jorden       from the United States, as well as
Mark Parsons    from England
Jim Gabarra        from the United States
Tom Torres         from the United States
Richie Burke       from England     D