Who is Pierce Brosnan?
Pierce Brosnan is a well known Ireland based actor, film producer, activist, and environmentalist. The actor who had made to the entertainment industry through theatre is renowned as a strikingly handsome, versatile actor. Later he turned his profession to film producer. The actor is famous for landing his role in "GoldenEye," "Tomorrow Never Dies," "The World Is Not Enough" and "Die Another Day" as James Bond. The actor also is one of the number 15 in the list of Ireland's greatest film actors in "The Irish Times."
| Quick Info | |
| --- | --- |
| FullName | Pierce Brosnan |
| Birth Date | May 16, 1953 |
| Birth Place | Drogheda, Country Louth, Ireland |
| Father | Thomas Brosnan |
| Mother | May Brosnan |
| Wife | Keely Shaye Smith |
| Nationality | Irish |
| Height | 6 feet 2 inches (1.88 m) |
| Weight | 88 kg (194 lbs) |
| Eyes | Blue |
| Hair | Dark Brown |
| Net Worth | $100 million |
Bio
The actor, whose birth name is Pierce Brosnan, was born in Drogheda, Country Louth, Ireland, on May 16, 1953. The actor is currently 67 years old. The famous actor is the only child to father, Thomas Brosnan, who served as a carpenter and to mother May. Brosnan spent his childhood in Navan, Country Meath, for 12 years.
Early Life
When Brosnan was just an infant, his father abandoned his family. For the sake of a better life, his mother left him to her parents and moved to London to become a trained nurse. The actor lived with his grandparents and after their death, with his aunt and then to a boarding house. At the age of 11, he reunited with his mother in London with her husband, William Carmichael. There, the actor went on to study at Elliot School and then to Saint Martin School of Art, where he studied commercial illustration. As a teenager, he wanted to pursue his career in acting, so he went on to enroll in Drama Center London and got graduated in 1975.
Career
Immediately after his graduation, the actor began his career in acting by working as an acting assistant stage manager at the York Theatre Royal. He also started appearing in the many plays like "The Red Devil Battery Sign" and continued in theatre until he got other roles in the big screen. Eventually, he started appearing in the television and films in small roles in his 1970s and early 1980s. Then, the actor moved to the U.S. to pursue a successful career where he got his first significant role in the 1982 television series "Remington Steele," which ran for five seasons.
After this series, he got limelight and got a position in the spy film of "Cold War," The Fourth Protocol. You may also know him for his role as Phileas Fogg in the three-part television miniseries named "Around the World in 80 Days" in 1989. As he had already established himself, he appeared in many films in the early 1990s, which include "Murder 1010" in 1991 and "Death Train" in 1993. The actor also appeared in the supporting role in the comedy film "Mrs. Doubtfire" in 1993.
1994-2013
The actor got his breakthrough role in 1994, where he got portrayed as a secret agent James Bond in three movies. The first film "GoldenEye," released in 1995, the second film "Tomorrow Never Dies" in 1997, and the third film "The World is not Enough" in 1999. Following his success, he also got the role in the fourth film, where he again reprised his role in Die Another Day.
He got yet another vital role in his career in the dark comedy film "The Matador" in 2005. The actor never looked back but went on to land his diverse roles in many films. He has also landed his role in the 2010 political thriller film "The Ghost Writer." You may even know his for his roles in the movie like "Bag of Bones" in 2011, "Love is All You Need" in 2012 and "The World's End" in 2013.
2014-Present
The actor has always diversified his acting roles by appearing in different genres of films like romantic, comedy, thriller, horror, and dark comedy. He has landed in films like "A Long Way Down" in 2014, "Some Kind of Beautiful" in 2014, "Survivor" in 2015, "Urge" in 2016, and "The Foreigner. He also continued his success in the 2008 super hit film, "Mamma Mia!" by reprising his role as Sam Carmichael in 2018. Brosnan appeared in the movie "False Positive" and "The Misfits" in 2019.
Personal Life
The actor had his first marriage with actress Cassandra Harris in 1980. The couple has a son together with two adopted children from Cassandra's previous marriage. After a year, the actress died because of cancer. Then, Brosnan went on to tie his knot with Keely Shaye Smith in 2001. The couple has two children.
As Pierce has been working as an activist and environmentalist, he is an ambassador of UNICEF Ireland.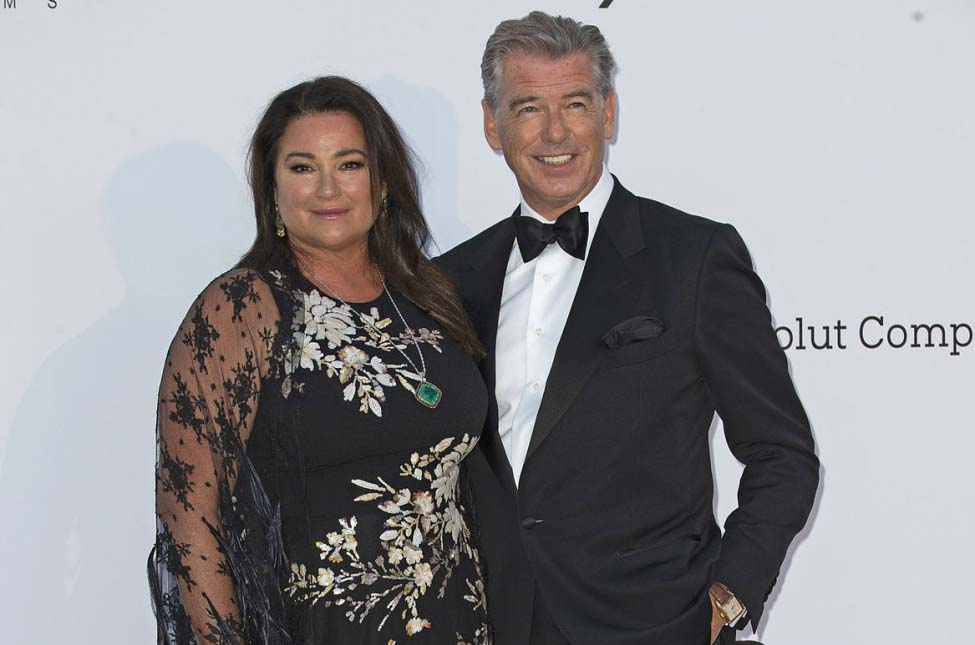 Awards
The actor has been associated with the entertainment industry for a long time and has contributed a lot in many films and series. He nominated in numerous awards and  won several of them. His wins include AARP Movies for Grownups Awards in 2009, Academy Awards in 1998, Blockbuster Entertainment Award in 2000, Christopher Awards in 2003, Empire Award in 2000, and other critics awards.
Nationality and Physical Statistics
Pierce is Irish by nationality and is of the white race.
Besides that, Pierce stands at a height of 6 feet 2 inches (1.88 m) and weighing about 88 kg (194 lbs).  Additionally, his hair color is dark brown, and his eye color is blue.
Social
Pierce has an active Instagram account as @piercebrosnanofficial with 1.4 million followers and a twitter account as @PierceBrosnan with 119.1k followers. He also owns a Facebook account as @piercebrosnan with 1,290,965 likes and 3,518,959 followers.
Pierce Brosnan Net Worth
Pierce Brosnan is living a luxurious life with her family. He is a famous actor who has earned a lot of money as well as fame. Brosnan currently has about $100 million approximately.