Who is Russell Crowe?
Russell Crowe is a big name in the entertainment industry. He has gained name being an actor, film producer, and musician. Although a New Zealand citizen, he has lived most of his life in Australia. He became famous worldwide with his performance in the 2000 British-American epic historical drama film 'Gladiator,' for which he was honoured with an 'Academy Award.' He started his acting career when he was young. He started playing minor roles on television and then ventured into the Australian film industry. Apart from an acting career, he has also associated with many Australian and Canadian bands. For his exceptional work to Australian society and the film production, Crowe has been honoured with the 'Australian Centenary Medal.
Quick Info
Celebrated Name
Russell Crowe
Profession
Actor, Film Producer, Musician
Birth Date
April 7, 1964
Birth Place
Wellington, New Zealand
Star Sign
Aries
Parents
Father: Alexander Crowe
Mother: Jocelyn Yvonne
Brother
Terry Crowe
Wife
Danielle Spencer (divorced)
Son
Charles Spencer Crowe and Tennyson Spencer Crowe
Net Worth
$95 million
Nationality
New Zealand
Religion
Christian
Height
6 feet(1.83 m/183 cm)
Weight
91 kgs (201 lbs)
Eye Color
Blue
Hair Color
Light Brown
Bio
Russell was born on April 7 1964, in Wellington, New Zealand. He was born to father Alexander Crowe who was a hotel manager and a movie set caterer and to mother Jocelyn Yvonne who was also in the catering business. He has a brother named Terry Crowe. Crowe moved to Australia at the age of four along with his family. He is currently 56 years old with Aries sun sign.
Nationality and Physical Stats
Russell Crowe holds New Zealand nationality and follows Christianity. Besides this, he has a healthy body type. He stands 6 feet(1.83 m/183 cm) tall and weighs around 91 kgs (201 lbs). Blue coloured eyes and light brown hair colour, reflects his fantastic personality.
Early Life/ Education of Russell Crowe
Russell Crowe joined 'Sydney Boys High School.' He showed an interest in acting from a very young age. While he was fourteen, he and his family returned to New Zealand, and he continued his secondary education at Mount Roskill Grammar School, in New Zealand, but soon left the school to pursue acting. He appeared in TV series like 'Spy force' and 'The Young Doctors' while he was in Sydney during his early childhood days.
Career
1980-1999
Russell Crowe in the early 1980s aspired to become a musician. He released many singles like I Just Want to Be like Marlon Brando. Later in 1986, he was hired for the role of 'Eddie/Dr Scott' in 'The Rocky Horror Show' after he moved to Australia. He also bagged a role in the Australian production of 'Blood Brothers' as Mickey in 1988. The same year he featured as Johnny in the stage musical 'Bad Boy Johnny and the Prophets of Doom.' After he became familiar in Australia, he appeared in TV shows like 'Neighbors,' 'Living with the Law,' etc. In 1990, he became a cast member in his first feature film 'The Crossing' a romantic drama as Johnny Ryan. During the time, he also started filming for a movie titled 'Blood Oath' which released earlier than 'The Crossing.'
Similarly, in 1992 he appeared in the second volume of Police Rescue. He also appeared in 'Romper Stomper,' for which he won an Australian Film Institute (AFI) award under the Best Actor category. He also ventured in American films in 1995 alongside Denzel Washington in the sci-fi film 'Virtuosity.' The same year, he played as Cort in 'The Quick and the Dead,' starring alongside the stars like Gene Hackman, Sharon Stone, and Leonardo DiCaprio. His next project was in 1999 named 'The Insider' which starred Al Pacino. The movie received positive reviews by the critics, and he earned his first nomination in Academy Award.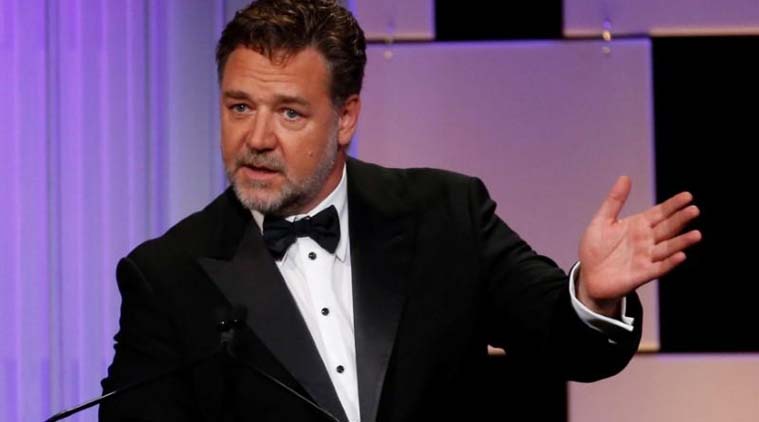 2000-Present
Russell came in the limelight and earned worldwide fame from his British-American epic historical drama movie 'Gladiator' in 2000 as Maximus Decimus Meridius. He also received many nominations and awards for his performance. Then in the mid-2000s, he appeared in several movies like 'Master and Commander' in 2003, 'Cinderella Man' in 2005, and 'A Good Year' in 2006. In 2007, he starred alongside Denzel Washington in Ridley Scott project 'American Gangster.' Moreover, he went on working in movies like 'Body of Lies' in 2008, 'Robin Hood' in 2010, 'Les Miserable' in 2012, and the superhero film 'Man of Steel' in 2013. From 2015 to 2019, he acted in numerous movies like 'Noah,' 'Winter's Tale,' 'Fathers and Daughters,' 'The Nice Guys,' 'The Mummy,' 'Boy Erased,' and 'True History of the Kelly Gang.'
More
Furthermore, he also appeared in the TV series like 'Rafferty's Rules,' 'Neighbours,' 'Acropolis Now,' 'Republic of Doyle,' and 'The Loudest Voice.' Apart from acting he also watches and plays cricket, and captained the Australian Team containing Steve Waugh against an English side in the 'Hollywood Ashes' Cricket Match. Likewise, he also took to the commentary box for the British sports channel, Sky Sports on July 17 2009. Similarly, he is a big fan of the New Zealand All Blacks rugby team.
Personal Life of Russell Crowe
Russell Crowe had an on-off relationship with Australian singer Danielle Spencer since 1989. He finally married her in 2003. This couple has two sons: Charles Spencer Crowe and Tennyson Spencer Crowe. In April 2018, the two separated. It is also said that he was involved in a brief romantic affair with American actress Meg Ryan in 2000.
Social
Russell Crowe is also on social media. His Instagram (@russellcrowe) has 971 thousand followers, while his Twitter handles (@russellcrowe) have 2.7 million followers. His official Facebook page has more than 690 thousand likes and followers.
Achievements
Russell Crowe has earned awards like Oscar for 'Gladiator' and BAFTA, Golden Globe, and Screen Actors Guild Award for A Beautiful Mind. He has also been honoured from the Australian government with the 'Centenary Medal' for service to Australian society and Australian film production.
Net Worth
Russell Crowe earns from his acting career. He has appeared in numerous films. His primary income comes from working in the entertainment industry. As of 2020, his net worth is approximately $95 million.