Who is Terry Crews?
Terry Alan Crews is a former American footballer player, bodybuilder, actor, and comedian. He played the National Football League as a defensive end and linebacker. Terry concluded his football career to pursue his acting career. He did many television shows where he did a reality show starring his entire family. Also, as an actor, he did television commercials and won the heart of a lot of people. Furthermore, Terry Crews is also an activist who raised a voice for women's rights. He was has been included in 'The Time Magazine' as Person of the Year in 2017.
Quick Info
Celebrated Name
Terry Crews
Profession
footballer player, bodybuilder, actor, and comedian
Birth Date
July 30, 1968
Birth Place
Flint, Michigan
Full Name
Terry Alan Crews
Star Sign
Leo
Parents
Father: Terry Crews Sr.
Mother: Patricia
Sister`
`Micki Crews
Wife
Rebecca
Kids
5
Net Worth
$20 million
Nationality
American
Religion
Christian
Height
6 feet 3 inches (1.91m/191cm)
Weight
111 kgs (245 pounds)
Body Measurements
54-36-17 inches
Eye Color
Dark Brown
Hair
Bald
Bio
Terry Alan Crews was born to Patricia and Terry Crews Sr. on July 30, 1968, in Flint, Michigan. He has a sister named Micki Crews. Currently, he is 51 years old with Leo sun sign.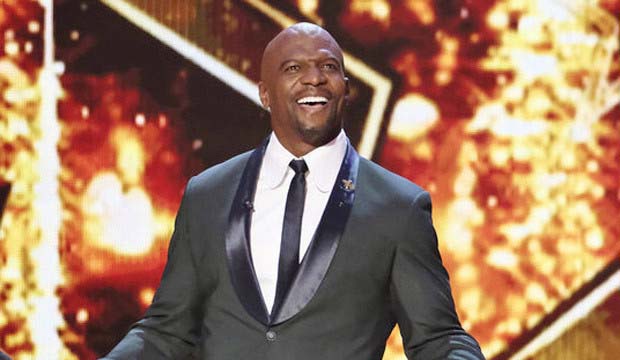 Nationality and Physical Stats
Terry Crews holds an American nationality and follows Christianity. Besides this, he stands 6 feet 3 inches (1.91m/191cm) tall and weighs around 111 kgs (245 pounds). His body measures 54-36-17 inches. Furthermore, he has a pair of dark brown colored eyes and has a bald hairstyle.
Early Life/ Education of Terry Crews
Terry Crews' father was an alcoholic person and violent who abused his family. His mother raised him. Besides, he attended the Flint Southwestern School and enrolled in Interlochen Center for the Arts in Interlochen, Michigan. He also received an art scholarship from the Chrysler Corporation. As Terry gained a full athletic scholarship, he attended Western Michigan University (WMU) in Kalamazoo, Michigan, to major in art. He became selected as a defensive end for the 'WMU Broncos' and earned all-conference honors helping his team to win the 'Mid-American Conference Championship' in 1988.
Career
Football
Terry Crews was an outstanding football player with an athletic body type. He has played a total of 32 games. While playing for the Western Michigan University, his football skills got noticed, and the Los Angeles Rams asked him to join their team in the 11th round of the 'NFL' draft in 1991. He played two seasons for Rams and joined 'Sam Diego Chargers' and played for them as well as became Journeyman.
Likewise, he played with Washington Redskins in 1995, and the next year with the Philadelphia Eagles. He also played for the German team, Rhein Fire in the World League of American Football. Moreover, during those years, he realized that his career in football was not enough, so he decided to use both his talent and knowledge of the game to create a series of NFL-licensed lithographs at the behest of a reputed company dealing in sports memorabilia.
Acting
Terry Crews started his acting career in 1999 playing in the TV series 'Battle Dome' playing the character of urban warrior T-Money. The next year he appeared on a big screen in the film 'The 6th Day' as Vincent, which became a flop in the box office. After that, he sometimes got very minor roles in films, music videos, and television commercials, which was even not fixed. In 2002 he appeared on 'Friday After Next' alongside Ice Cube. Likewise, his performance in the 2004 film 'White Chicks' had been appreciated, which earned him the role in 'The Longest Yard' in 2005. After this film, he played 'Everybody Hates Chris' sitcom, which made him recognized among the audience and received a positive response. This show ran from 2005 to 2009.
Terry gained massive popularity in 2010, where he did a reality show 'The Family Crews' along with his family members and shared his experience with his family. Similarly, in 2010, 2011, 2012 and 2013 he did movies like 'The Expendables,' 'Lottery Ticket,' 'Bridesmaids,' 'The Expendables 2' and 'Scary Movie 5.' He also lent his voice to animation films like 'American Dad!', and 'Cloudy with a Chance of Meatballs 2'. He also played a TBS sitcom 'Are We There Yet?' which ran from 2010 to 2013. Moreover, in 2013 he played an American police television sitcom Brooklyn Nine-Nine where he played the character of 'NYPD' Sergeant Terry Jeffords. This was a very successful series of his career.
Furthermore, in the following years, he did many movies and TV shows. He also hosted the syndicated game show, 'Who Wants to Be a Millionaire.' In 2017, he did a Netflix original show 'Ultimate Beastmaster.' He also was featured in the superhero film, 'Deadpool 2' as Jesse Aaronson in 2018. His recent project of 2020 is that he voiced over in the movie 'The Willoughbys' and appeared in an episode of 'Lego Masters.'
Achievements
Terry Crews has received a total of 21 nominations to date. He gained the Phenom Award in 2019.
Personal Life of Terry Crews
Terry Crews married Rebecca on July 29, 1990. Moreover, the couple has five children, daughters Azriel, Tera, Wynfrey, and Naomi Burton, and son Isaiah. Likewise, he also released his autobiography, 'Manhood: How to Be a Better Man or Just Live with One' in 2014. In the autobiography, he talked about his addiction to pornography that had severely affected his life and marriage and how he was able to overcome it after entering rehab in 2009 and 2010.
Social
Terry Crews is very active in social media. He has his YouTube Channel of his own name with has 305 thousand subscribers. His Twitter and Instagram handles (@terrycrews) have 1.7 million and 6.8 million followers, respectively. Likewise, he has a Facebook page with more than 8 million likes and followers.
Net Worth of Terry Crews
Terry Crews has gained a massive amount of popularity and success from the entertainment industry. He has an estimated net worth of about $20 million, as of 2020.