Who is Vera Farmiga?
Vera Farmiga is an American Actress, director, and producer. Farmiga is well-known for her role as paranormal investigator Lorraine Warren in the Conjuring film series. 46-year-old Vera has been active in the entertainment industry since 1996.
| Quick Info | |
| --- | --- |
| Full Name | Vera Ann Farmiga |
| Birth Date | August 6, 1973 |
| Birth Place | Clifton, New Jersey |
| Father | Michael Farmiga |
| Mother | Lubomyra "Luba" |
| Siblings | 6 |
| Religion | Pentecostalism |
| Height | 5 feet 5 inches (1.67 m) |
| Weight | 60 kg (132 lbs) |
| Body Measurement | 34-23-33 inches |
| Husband | Renn Hawkey |
| Kids | 2 |
| Net Worth | $10 million |
Bio
Vera Farmiga was born on August 6, 1973, in Clifton, New Jersey with the name Vera Ann Farmiga. She is currently 46 years old. Her parents are Ukrainians: father Michael Farmiga, who is a system-analyst-turned-landscaper and mother Lubomyra "Luba" who is a school teacher. She has one elder brother, Victor, and five other siblings; Stephan, Nadia, Alexander, Laryssa, and Taissa Farmiga. As a child, Vera converted with her family from the Ukrainian Greek Catholic Church to Pentecostalism.
Vera was raised in an insular Ukrainian American community in Irvington, New Jersey with Ukrainian as her native language. She considers herself to be 100% Ukrainian American.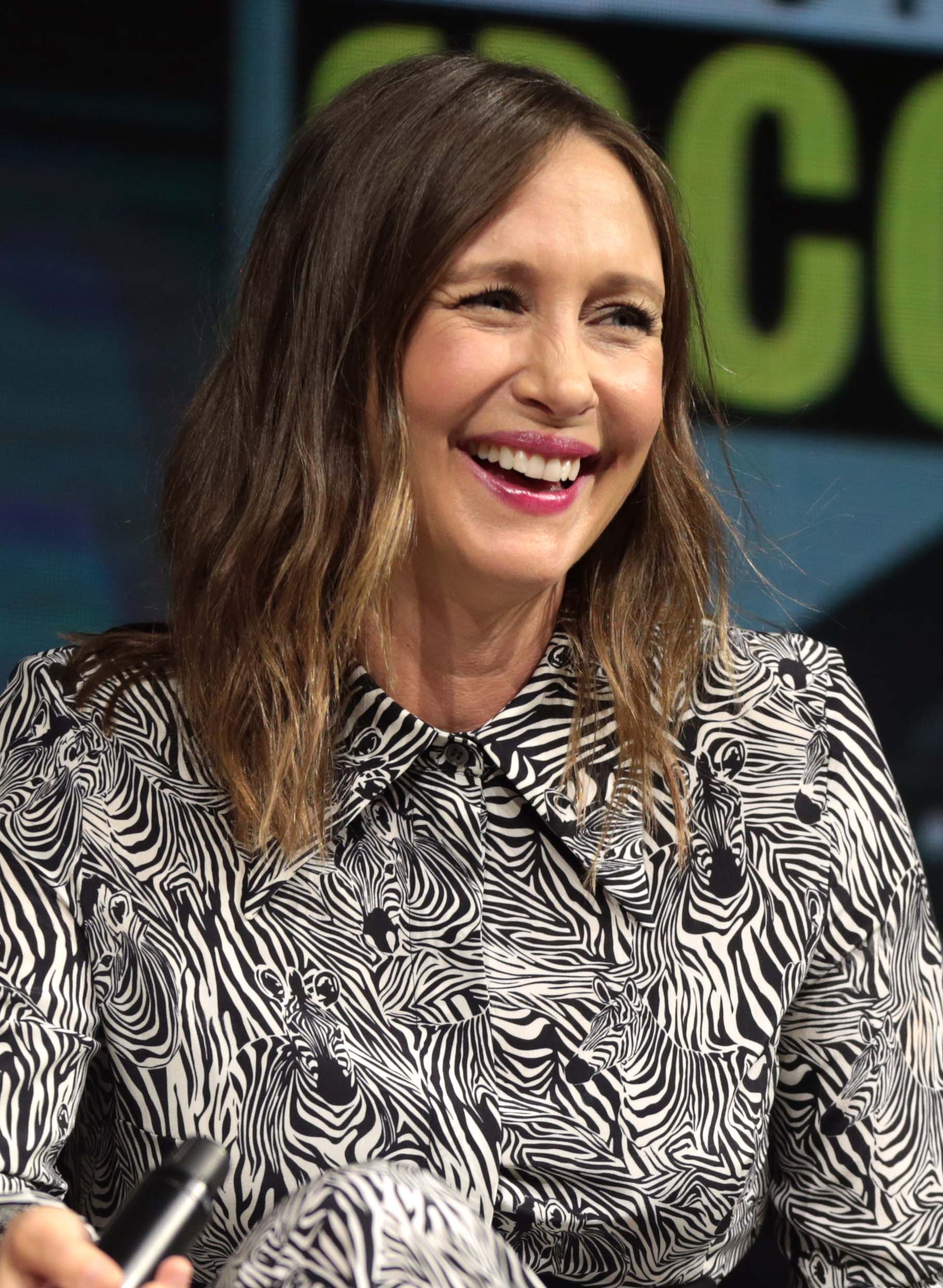 Early Life
She attended St.John the Baptist Ukrainian Catholic School as the family moved from Irvington to Whitehouse Station, New Jersey. Farmiga toured with a Ukrainian folk-dancing ensemble, Syzokryli at her teens and became a semi-professional folk dancer. She is a classically trained pianist and also was a member of Plast.
Farmiga was graduated from Hunterdon Central Regional High School in 1991. She found acting after being benched during a varsity soccer game during her junior year where her friend convinced her to audition for the school production of 'The Vampire' and won the lead role of Lady Margaret. Vera then graduated with a Bachelor of Fine Arts at Syracuse University in 1995. She was portrayed as Nina Zarechnaya in 'The Seagull' at the Kennedy Center American College Theatre Festival in her final year where the production won the top prize.
Nationality and Physical Statistics
Vera is a Ukrainian-American actress and follows the Pentecostal religion. Besides that, Farmiga stands at the height of 5 feet 5 inches (1.67 m) and weighing about 60 kg (132 lbs) with the body measurement of 34-23-33.  Additionally, her hair color is brown, and her eye color is blue.
Social
Vera has an active Instagram account as @verafarmiga with 796k followers, twitter account as @VeraFarmiga with 228.1k followers, and Facebook account with 333,049 followers and 150,758 likes.
Personal Life
Vera met actor Sebastian Royce while starring together in the TV series Roar and eloped to the Bahamas and ended it in 1997. The couple divorced in 2004. She then dated Renn Hawkey and got married when she was 5 months pregnant in 2008. She gave birth to her son in 2009 and to her daughter in 2010.
Career
In 1996, Vera starred in 'The Tempest' as Miranda in the American Conservatory Theater. Apparently, in the same year, she portrayed in 'The Barrow Group'. In the same year, she made her Broadway debut in 'Taking Sides' and following the way she again portrayed in 'Rose Hill'. Vera played the leading roll in Fox's short-lived fantasy adventure series 'Roar', 'Heath Ledger', and 'Sebastian Roche'. Farmiga did a guest-starred in an episode of drama series 'Law & Order'. In1998, she played a supporting role in the drama-thriller 'Return to Paradise'. Vera did the supporting role in the romantic drama 'Autumn in New York'.
2000-2004
Eventually, in the same year, she played the crime drama 'The Opportunists' as Miriam Kelly. In 2001, Farmiga did a supporting role in '15 Minutes' and also co-starred 'Dust'. Subsequently, she joined the main cast of 'UC: Undercover' as Alex Cross. Then, Farmiga appeared in the Hallmark fantasy television film 'Snow White: The Fairest of Them All'. Farmiga starred in her first romantic movie 'Love in the Time of Money' in 2002. She also starred in 'Under the Blue Sky' and later starred in 'Dummy'. In 2003, Farmiga had her breakthrough role as Irene Morrison in 'Down to the Bone'. In 2004, she appeared in the HBO drama film 'Iron Jaed Angels' as Susan and also did a thriller film 'The Manchurian Candidate' as Jocelyne Jordan.
2005-2010
Farmiga co-starred in 'Neverwas' in 2005 and also starred as 'The Departed' in 2006. In the same year, she starred in the crime thriller 'Running Scared' and even 'Breaking and Entering' and again landed in 'Never Forever'. Furthermore, In 2007, Vera starred 'Joshua' and 'Quid Pro Quo'. In 2008, she played in the drama 'The Boy in the Striped Pyjamas', 'In Transit', 'Central Intelligence Agency' and 'Nothing But the Truth'. Farmiga co-starred in 'Orphan', 'A Heavenly Vintage', and 'Up in the Air' in 2009. In 2010, she starred in 'Henry's Crime' and 'Duncan Jones'. Farmiga did her directorial debut in 'Higher Ground' during her pregnancy.
2011-Present
In 2012, she starred in 'Goats' and 'Safe House'. She returned to television cast and began casting in series 'Bates Motel'. She also appeared in the film 'The Conjuring' and also reprised her role in 'The Conjuring 2' alongside casts Patrick Wilson, Ron Livingston, Lili Taylor, Joey King, and others. Furthermore, she also starred in 'At Middleton' and 'Closer to the Moon'. In 2014, she starred in 'The Judge', 'Special Correspondents', 'Jordan Roberts''. She starred 'The Escape' and the following year she played at the 'Mill Valley Film Festival'. In 2018, she played in 'The Commuter', 'Boundaries', 'Skin', and 'The Front Runner'. In 2019, she starred in 'Captive State', 'MonsterVerse', 'When They See Us' and also reprised in her role in the horror sequel film 'Annabelle Comes Home'. She will also be reprising her role in 'The Conjuring: The Devil Made Me Do It' in 2020.
Awards
Vera has been associated in this industry for a prolonged period and has been nominated for various awards. She won the Los Angels Film Critics Association Award for Actress in 2005, Satellite Awards for Best Cast-Motion Picture and National Board of Review Award for Best Cast in 2006, BIFA Award for Best Performance by an Actress in a British Independence film in 2008 and People's Choice Award for Favorite Cable TV Actress in 2017.
Net Worth
Farmiga is living a luxurious life with his family. She is a famous actress who has earned a lot of money as well as fame. Wilson currently has about $10 million approximately.