Who is Zinedine Zidane?
Zinedine Zidane is one of the former French professional players who used to play as a midfielder in his playing days. He is currently the manager of the football club 'Real Madrid.' He is also regarded as one of the greatest players and successful football managers of all time. His passion for sports started when he was a small kid. Moreover, he also has a great career graph in one of the great football competitions FIFA World Cup of 1998 and in the Euro World Cup in 2000, where he played for France. He initially played for the Cannes Football club before playing for Bordeaux. He then played for Juventus and finally made it to Real Madrid in 2001. Throughout his football career, he has received many honors, accolades, and awards.
Quick Info
Full Name
Zinedine Yazid Zidane
Profession
Football Player
Birth Date
June 23, 1972
Birth Place
Marseille, France
Star Sign
Cancer
Parents
Father: Smail Zidane
Mother: Malika Zidane
Siblings
4
Wife
Véronique Fernández
Kids
4
Net Worth
$17 million
Nationality
French
Religion
Muslim
Ethnicity
Algerian Kabyle
Height
6 feet and 1 inch (185cm/1.85m)
Weight
80 kg (176lbs)
Body Measurements
40-34-30 inches
Eye Color
Green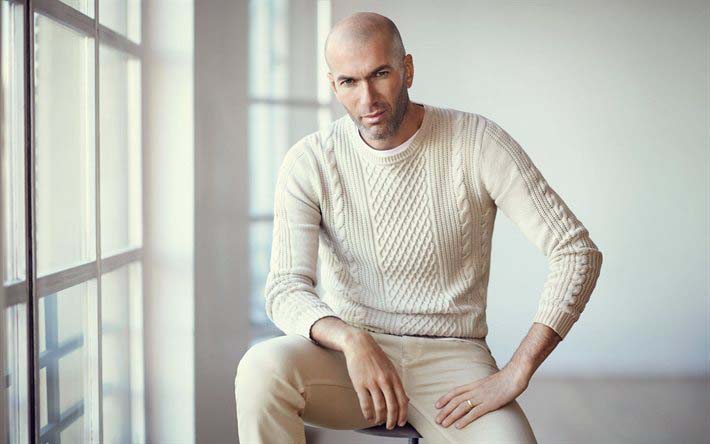 Bio
Zinedine Yazid Zidane was born on 23 June 1972, in Marseille, France. He was born as the youngest child to father Smail Zidane, a warehouseman, and to mother Malika, a homemaker. He grew alongside his four siblings. Presently, he is 48 years old with a Cancer sun sign.
Nationality and Physical Stats
Zinedine Zidane holds a French nationality and follows Muslim as his religion. He is of Algerian Kabyle descent. Besides, he stands 6 feet and 1 inch (185cm/1.85m) tall and weighs around 80 kg (176lbs). He has an athletic body type measuring 40-34-30 inches, respectively. He has a pair of green-colored eyes with a bald hairstyle.
Early Life/ Education 
Zinedine Zidane had an interest in sports when he was just five years old. He received his player's license when he was ten years old after becoming a junior team member of a local club from Castellane. He idolized the players Blaz Sliskovic, Enzo Francescoli, and Jean-Pierre Papin.
Career
Football club career
Zidane's performed his professional debut for the Cannes team in the 'Ligue 1' against the team 'Nantes,' which took place on May 18, 1989. He then made his first goal, which declared his team winner making a 2-1 win against 'Nantes' in 1991. Likewise, after leaving Cannes, he played for Girondins de Bordeaux from 1992-1993. His play of technique in the 1995 Intertoto Cup match made his team with that title. In 1996, he played in for the team 'Juventus' and won 'Series A' from 1996 to 1997, which also led them to win the 'Intercontinental Cup.'
After playing for 'Juventus' for quite a long time, he then went to 'Real Madrid' in 2001 and made a four-year contract. For this club, he played for the division 'La Liga.' During his first season, he made a match-winning goal against 'Bayer Leverkusen' in the 2002 'UEFA Champions League Final' and also in his second season in 2002 to 2003, he made the team win. He was also honored by various awards for his performance. He played his last match for 'Real Madrid' on May 7, 2006, against 'Villarreal CF' with 3-3.
International Career
Zinedine Zidane has played many international matches has also received accolades for it. He made his debut in the 'FIFA World Cup' in 1998, where he performed an outstanding performance. He played for his country France and also made it to semi-finale and defeated Croatia by 2-1. They played against Brazil in the finale, and Zinedine scored two goals, both headers, and led his country to win the game with a score of 2-0.
His other outstanding performances from the 'FIFA World Cup' were in 2000, where he scored four goals, and in 2003, he scored 3 goals. Taking about 'European Championship,' his team France have won 'Euro 2000.' Likewise, in the 2006 'FIFA World Cup,' he took full advantage of a penalty kick for his team France and won the semi-final against Portugal. Sadly, they lost the final against Italy in a penalty shootout with 5–3. This was his last FIFA match because he took retirement from playing football.
After Retirement
Zinedine Zidane took his retirement and started to coach many youths in local clubs. He also became head coach of Real Madrid's B Team named 'Real Madrid Castilla' in June 2014. Currently, he works as a manager and head coach of 'Real Madrid since March 2019. Apart from playing for himself, he also plays for many charitable concerns and donates all the money he receives.
Achievements
Zinedine Zidane has been honored with the title FIFA World Player of the Year in 1998, 2000, and 2003. He has also been awarded FIFA World Cup Final Man of the Match, FIFA 100 Greatest Living Footballers, and FIFA World Cup Golden Ball. Moreover, he has also been honored with the European Player of the Year in 1998, 2001, 2002, and 2003. In 1998 and 2002, he has won the French Player of the Year.
Personal Life 
Zinedine Zidane married his long-time girlfriend Véronique Fernández in 1994. They have four kids in total named Enzo Alan Zidane Fernández, Luca Zinedine Zidane Fernández, Theo Fernández, and Elyaz Zidane Fernández.
Social
Zinedine Zidane is active in his social media accounts. His Instagram account @zidane) has 27.2 million followers and his Twitter handle has (I5IZidane) has 17.2 thousand followers. He also has his YouTube channel with 73 thousand subscribers.
Net Worth
Zinedine Zidane is one of the highest-paid footballers who currently works as a manager in the club Real Madrid. His estimated net worth as of 2020 is $17 million.