Who is Sylvia Plath?
Sylvia Plath was an American poet, novelist, as well as a short-story writer. She was born on October 27, 1932, in Boston, Massachusetts, US. Unfortunately, she died on February 11, 1963, in London, England, UK.
Quick Info
Celebrated Name
Sylvia Plath
Profession
Poet, Novelist, Short-Story Writer
Birth Date
October 27, 1932
Birth Place
Boston, Massachusetts, US
Death Date
February 11, 1963
Death Place
London, England, UK
Parents
Father: Otto Plath
Mother: Aurelia Schober Plath
Star Sign
Scorpio
Nationality
American
Husband
Ted Hughes
Kids
2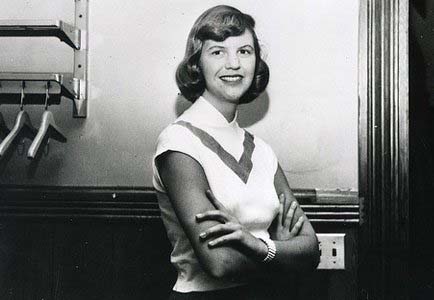 Early Life
Sylvia was born to Aurelia Schober Plath and Otto Plath with the birth sign Scorpio. She holds an American nationality. In 1936, Sylvia moved to Winthrop. Eventually, on November 5, 1940, her father died because of diabetes. She was shocked by her father's death. So, to cope with her grief, she started to write. She published her first poem in "Boston Herald."
Later, in 1942, she transferred to Wellesley, Massachusetts, and attended Bradford Senior High School. Meanwhile, at the age of eleven, she started to write journals. Also, she wrote a poem published in local papers and magazines. Her article "Youth's Appeal for World Peace" published in the newspaper for the first time. Since then, she appeared in numerous national papers.
In 1950, she completed her school and attended Smith College on scholarship. There she majored in English. Meanwhile, she became the editor of "The Smith Review."
Major Works
Sylvia is remembered for her book of poems, "Ariel." The book was published in 1965. Moreover, she wrote poetry during the last phase of her life. This made him earn the fame that she had been collecting for all her life. Many critics now say this as the beginning of the new movement.
Furthermore, Sylvia was awarded the Pulitzer Prize for her book "The Collected Poems." Ted Hughes collected the poems. The poems were published in 1981.
Personal Life of Sylvia Plath
Sylvia Plath married Ted Hughes on June 16, 1956. Also, the couple had two children together; Frieda and Nicholas. However, in September 1962, Hughes left her for another woman. Due to this, Sylvia suffered from depression. Her depression level increased more and more and became horribly cold. Also, she consulted with the psychiatrist, her situation did not improve.
On February 11, 1963, Sylvia served her children with bread and milk and sealed their door off with the tape. Then, she locked herself in the kitchen and placed her head in the oven with the gas turned on. She committed suicide, which her body was discovered the next day.