Alexander Skarsgard
Alexander Skarsgard, a Swedish actor, was born on 25 August 1976 in Stockholm, Sweden. Eldest son of famed actor Stellan Skarsgard and his wife My Skarsgard, Alexandar Skarsgard grew up with his five younger siblings.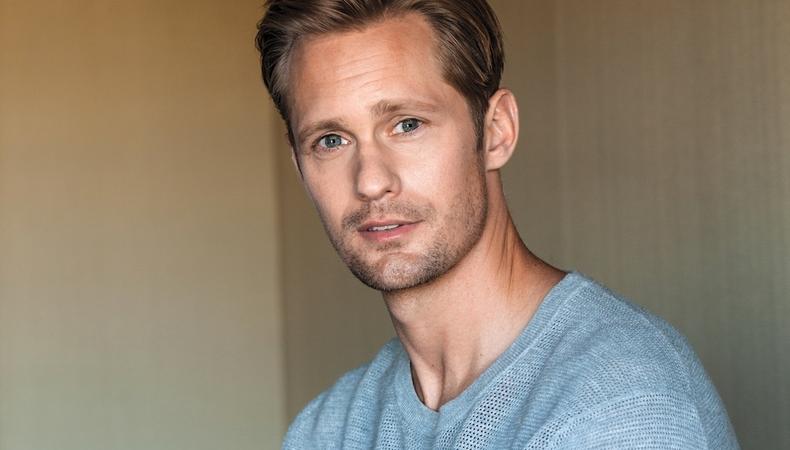 Career
Alexander, started his acting career at the age of 7, in 1984 in an adaptation of the popular children's book "Ake and his World" in which his father's friend gave him the role. Alexander had previously worked for several other films and TV shows in a minor role. Skarsgard became popular when his film "The Dog That Smiled" became a hit in 1989. This made him more popular as a young actor at the age of 13.  The fame became scary for the actor and quit acting for the next 7 years.
He started to do the national service at the age of 19 by serving in the Swedish military for 18 months. In 1996, he completed his service and attended the university "Leeds Beckett University" for six months moving to England. Though he enrolled in studying English he had not studied much.
Moving again to Sweden, Alexander started to pick up the acting jobs, working on theatrical production, televisions, and film. He made his debut as an airheaded male model in an American film in the widely popular comedy "Zoolander" in 2001. Later in 2003, he wrote and directed "To Kill a Child", a short film, featured at the Cannes Film Festival and Tribeca.
More about Skarsgard
Though he was going well in Sweden, he again went to the American screen. He got a shot in as Marine Sergeant Brad "Iceman" in the HBO miniseries "Generation Kill". It was based on the 2003 American invasion of Iraq on Evan Wright's book. The show was done in Nambia, South Africa and Mozambique over seven months. Later, it received the rave reviews and earned critical acclaim for the performance.
After the "Generation Kill", Alexander became the cast in the HBO series "True Blood" of Alan Ball. He was portraying the role of an eric Northern man, a Viking vampire locked in a love triangle with another vampire and a human waitress. His role in the movie made him more popular even in the US as well. He got the opportunity to have an appearance in the American films "Straw Dogs" with James Marsden, "Battleship" in 2012 with Liam Neeson and Kate Bosworth in 2011. He also made his appearance with his father, Stellan in "Melancholia" in 2011. Further, the actor also starred in the remake of "The Legend of Tarzan" in 2016. Later in 2018, he appeared in the Netflix feature "Mute" as a bartender.
Talking about his personal life, Alexander is unmarried. Previously, there was a rumor that he was is a romantic relationship with his "True Blood" co-star Evan Rachel Wood.